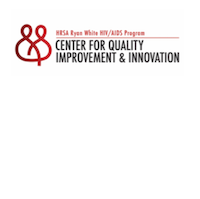 Since 2007, CQII has recognized organizations and individuals who have made exemplary progress in improving their Ryan White-funded services. The aim of our Quality Care Award Program is to celebrate the success of Ryan White HIV?AIDS Program recipients and subrecipients nationally, increase the visibility of quality champions, and provide real world examples that other programs might find useful. We encourage those individuals and organizations with a rich history of quality improvement as well as those who are new to QI to submit their nominations.
The 2021 CQII Quality Care Awards include the following award categories:
Measurable Improvements in HIV Care to Mitigate HIV Disparities
Leadership in Quality
Consumer Involvement in Quality Improvement
Congratulations to our winners and thank you to everyone who submitted a nomination.
Measurable Improvements in HIV Care
Ryan White Wellness Center, Roper St. Francis Healthcare, Charleston, South Carolina
The Ryan White Wellness Center uses peer navigators to provide an additional level of support to clients that face challenges remaining in care and achieving viral suppression. The peer navigators began their work in early 2016. The navigators worked closely with the clinical case management team and administrative staff to create policies and procedures and develop peer-led strategies. Navigators provide various services to clients including: personalized reminder calls, follow-ups after visits, regular check-ins by telephone, and enhanced, peer-led treatment adherence counseling.
Over the course of the program the role of the navigators was expanded to include housing assistance, job readiness, and aging with HIV. At the inception of the peer navigation program the retention rate among clients referred to the program was 78 percent and the viral suppression rate was 47 percent. At the end of 2017, the viral suppression rate among those clients was at 77 percent and the retention rate was 94 percent.
---
Trillium Health, Rochester, New York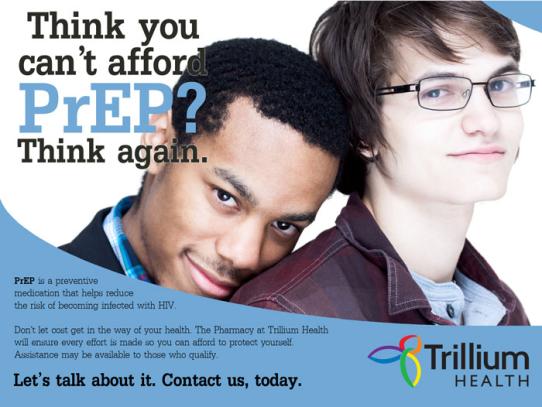 Trillium Health is an independent, neighborhood health center that has been providing comprehensive HIV care since 1989. Trillium made a concerted effort to reach out to individual not yet engaged in care. They launched a PrEP-Plus program that now has over 600 clients (one of the largest in New York State). While PrEP is not funded by Ryan White HIV/AIDS Program dollars, this outreach effort led to improvements throughout the patient population. The program started by identifying social group leaders and influencers to begin treatment and encourage people in their social and sexual networks to do the same.
These efforts were supported by an extensive marketing campaign using social media. This guerilla outreach/marketing team is made up of young men who have sex with men who conduct outreach at various venues and digital outreach using mobile phone dating apps. Using sound quality improvement methodology, they saw the need to improve the rates of the undiagnosed. Those individuals interested in beginning treatment were immediately linked to an intake specialist to facilitate the beginning of treatment. Before this guerilla market team was announced, Trillium patients were virally suppressed in 136 days on average.
This campaign led to patient's being virally suppressed in 58 days. To date, all newly diagnosed individuals identified by the guerilla/outreach team have begun antiretroviral treatment. Trillium attributes this success to their sex-positive approach and the trusting relationships built during outreach interactions. The team quickly discovered that they were identifying more undiagnosed HIV infection and acute HIV infection compared to Trillium's traditional, walk-in HIV testing.
---
Sustainable Clinical Quality Management Programs
Alabama Quality Management Group
Since 2006, Ryan White HIV/AIDS Program (RWHAP) recipients in Alabama have been meeting to share ideas on how to ensure optimal health for people living with HIV. The Alabama Quality Management Group (AQMG) initially included Part C and D recipients but over time, was expanded to also include Part B providers and now functions as a cross-Part collaboration. Members represent organizations providing services across the entire state-all 67 counties.
The group's priorities currently focus on 1) viral suppression; 2) retention in care; and 3) engaging new patients in care. The group assisted the Alabama Department of Public Health's Surveillance Branch with the implementation of the Data 2 Care Project. Data 2 Care assists RWHAP recipients in obtaining demographic data for clients who are truly out of care so that efforts can be focused on the re-engagement of those clients. In addition, the group is focusing on no show rates.
Members are collecting data on the percentage of patients who are a no show for at least one HIV-specific medical visit. This priority grew out of research conducted at the University of Alabama, Birmingham's 1917 Clinic showing that patients who missed visits within the first year after initiating treatment for HIV were at higher risk of dying than patients who attended all scheduled appointments. The group has secured funding for a statewide Data 4 Care intervention focused on reducing no-show rates. These activities will be initiated later this year.
---
Broward County EMA Ryan White Part A Clinical Quality Management (CQM) Program
The Fort Lauderdale/Broward County EMA established a system-wide quality assurance and continuous quality improvement program in 1997. A major project of the CQM program was the Consumer Health Experience Initiative (CHEI) to assess the quality of service delivery in the EMA by evaluating the client experience. A consultant gathered qualitative and quantitative data through a "secret shopper" experience at all subrecipients. Additionally, two educational modules to engage all subrecipient agencies and staff were conducted. Module One, "Creating a Welcoming and Responsive Service Environment for People Living with HIV," focused on identifying customer service themes of person-centered care, cultural humility, conscious and unconscious biases, and motivational interviewing.
Module Two, "Quality Initiative to Improve Customer Service and Care to People Living with HIV in Broward County Florida," aggregated mystery shopper/consumer experiences, identified facilitators/barriers to care, reviewed Module One evaluation data, and identified interventions to improve client engagement in services. Each agency received a final assessment of their results from the mystery shopper assessment, team culture survey, and Module One evaluation. In response to the findings, the CQM program is working to remove the barriers to care identified by the CHEI.
---
Leadership in Quality
Orange County Health Care Agency, 17th Street Testing, Treatment, and Care Clinic
The California Ryan White Part B Clinical Quality Management (CQM) program, in conjunction with the California Prevention Training Center (CAPTC), implemented a quality improvement pilot program to increase extragenital gonorrhea and chlamydia (GC/CT) screening in two high-volume Ryan White Part B clinics. One of the selected sites was Orange County Health Care Agency's 17th Street Testing, Treatment, and Care Clinic, a county public health clinic.
The primary goal of the pilot project was to improve sexually transmitted disease (STD) screening for men who have sex with men who are living with HIV. The clinic sought to increase extragenital screening by giving patients an option to self-collect swabs for pharyngeal and rectal gonorrhea and chlamydia. This option required the clinic to conduct a validation study for patient self-collected swabs. To ensure practice transformation, the clinic assigned a dedicated staff person to liaison with all stakeholders and staff. Patient input on self-collection procedures was obtained during the pilot project--patients were pleased with the new self-collection procedures.
The clinic is now in the process of finalizing and formalizing its new screening protocols, including configuration of the electronic medical record to allow electronic lab ordering and processing of patient-collected samples. Lessons learned from the implementation of this pilot have been valuable in framing how the California Department of Public Health will continue to support STD screenings for people living with HIV.
---
Marisa McLaughlin, Senior Specialist for Quality and Performance Improvement, Portland TGA
An example of Marisa McLaughlin's leadership has been her work to expand technical assistance provided by HIV Care Services (HCS) around the development of contractors' annual Clinical Quality Improvement (CQI) Plans. In response to needs expressed by contractors related to the CQI plans, Marisa developed and implemented an annual review of contractor performance measurement and quality management. The goal of this annual review is twofold, to assist with the development of CQI plans and to increase awareness and engagement in the review of programmatic data.
The reviews also solidify the role of HCS as a source of expertise, collaboration, and support to contractors to create sound evidence-informed quality goals. Marisa has also been leading the development of the Viral Suppression Support Project in the Portland-Multnomah County TGA. Obtaining viral load laboratory results from state surveillance is a new endeavor for the TGA. Marisa worked to ensure providers had clear direction for conducting outreach to clients that are not virally suppressed or are out of care. She ensured that people living with HIV were involved in the project. The discussions resulted in a draft work plan identifying which service providers would be first to reach out to clients and work with them toward viral suppression or stronger medical engagement.
---
Consumer Engagement in Quality Improvement
Neighborhood Health Services Corporation
To address sub-optimal medical appointment adherence (based on 2016 year-end statistics) the Neighborhood Health Services Corporation and its Early Intervention Program, in conjunction with its Consumer Advisory Board (CAB), designed and carried out a quality improvement project to address the sub-optimal adherence to appointment rates. The group committed to develop a quality improvement project based on this data to increase the adherence rate to 80%. They developed a tool to assess reasons for non-adherence, analyzed the results and then developed an improvement project using Plan-Do-Study-Act Cycles to test their interventions.
The CAB's input was vital in developing the tools necessary to ensure the achievement of the goal. Based on the data review and analysis performed by the EIS-CAB quality team at the end of the initial 90-days PDSA cycle, NHSC achieved 80% appointment adherence rate. Furthermore, ongoing follow-up study and collaborative data monitoring revealed that NHSC was able to sustain and surpass the achieved appointment adherence rate during the entire 2017 and the first five (5) months of 2018. Furthermore, NHSC observed a sustained 23% increase in viral suppression in previously unsuppressed patients.
Browse for More
Topic Areas
Clinical Quality Management
,
Performance Measurement
,
Quality Improvement
,
Data & Reporting
,
HIV Testing & Diagnosis
,
Housing & Homelessness
,
Community Advisory Boards
,
Peer Programs
,
Ryan White HIV/AIDS Program & Parts
,
Part A - Hard Hit Urban Areas
,
Part A - Planning Councils
,
Part B - States/Territories
,
Part C - Community-Based Early Intervention
,
Part D - Women, Infants, Children, Youth