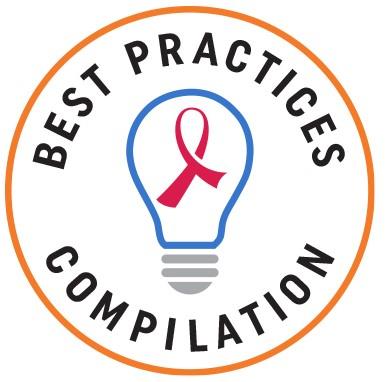 Twenty HIV care interventions that have demonstrated real-world impact in helping people with HIV engage in care are the first out-of-the gate in a new collection launched by HRSA's Ryan White HIV/AIDS Program (RWHAP). These interventions are catalogued in the searchable RWHAP Best Practices Compilation and were identified over the past few years after a national effort to collect and review the work being carried out by agencies funded by the Ryan White HIV/AIDS Program.
What's in the Collection?
The collection is designed to serve as a central location for Ryan White-funded programs to share innovative interventions to bring people into care, keep them engaged in care, and improve their health while reducing new HIV infections. The interventions currently in the Best Practices Collection are characterized as Emerging Interventions. This means they have shown real world impact over time but do not yet have published research evidence. 
Rapid ART, peer workers, integrated HIV and substance use care, and services for specific populations are some of the interventions in the collection. Here are highlights:
Housing First to Treat and Prevent HIV - Caracole, an AIDS Service Organization, uses three interconnected approaches to improve retention in HIV care: housing first, harm reduction, and motivational interviewing. Clients in permanent supportive housing had high rates of viral suppression, exceeding Caracole's goal of 75%.
Co-Locating Care Management Staff and Peers in Medical Clinics - Ryan Health, a Federally Qualified Health Center, and Alliance for Positive Change, a community-based organization, created a medical-community partnership to link clients to care and decrease missed appointments. The Linkage to Care program, utilizing peer navigators, was successful in reengaging clients who had fallen out of care.
Explore the Compilation 
Minute Plus Video Outtake: Tour the Best Practices Compilation
Cameron is a Ryan White staffer in search of an intervention to improve outreach and engagement for young people with HIV in his community. Listen to how he uses the Best Practices Compilation.
Share Your Innovation
Work is ongoing to identify more innovations. Submissions are reviewed based on the intervention design, feasibility, and quality of evidence. Got a novel approach or promising innovation? Share it via the Best Practices Submission Form.
Browse for More
Topic Areas
Service Models
,
Emerging and Innovative Models
,
Integrated Care
,
Interdisciplinary Teams
,
Rapid ART
,
Trauma-Informed Care
,
Antiretroviral Treatment
,
Achieving Viral Suppression
,
Key Populations
,
Black/African American
,
Adolescents & Youth
,
Incarcerated
,
MSM - Men who have Sex with Men
,
Transgender People
,
Women
,
Medical & Support Services
,
Case Management
,
Transportation
,
Housing & Homelessness
,
Mental Health
,
Nutrition
,
Substance Use & Addiction
,
People with HIV & Community Involvement
,
Peer Programs
,
Ryan White HIV/AIDS Program & Parts