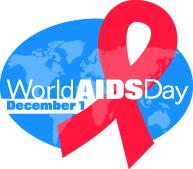 December 1, 2019 is World AIDS Day. This year's U.S. theme: Ending the HIV/AIDS Epidemic: Community by Community, which reflects the international theme, Communities Make the Difference.
The Community Infrastructure to Help End the Epidemic
HRSA's Ryan White HIV/AIDS Program (RWHAP) is, by design and mandate, a community-driven program that works in partnership with RWHAP recipients and sub-recipients on designing and implementing the Ryan White system of care.
Core components include:
The delivery of quality HIV care through clinical training
Clinical quality management and performance measures that provide the framework for agencies to achieve high standards
A client level data system to monitor health outcomes and guide improvements
The creation of care delivery models/best practices to reach specific needs and populations
A community-focused planning process that guides the design and funding of HIV systems of care
Each is supported by HRSA's RWHAP technical assistance and training initiatives for U.S. HIV programs and PEPFAR-funded programs.
Ending the HIV/AIDS Epidemic
Community-driven and community-focused efforts are the focus of Ending the HIV Epidemic: A Plan for America in cities and select states where over half of U.S. HIV infections are occurring. The September 2019 HIV.gov blog, HRSA Pathway on Ending the HIV Epidemic at USCA 2019, provides an update on ongoing HRSA efforts on this initiative.
Part of Collection