December 1 is World AIDS Day. The 2021 theme is Ending the HIV Epidemic: Equitable Access, Everyone's Voice.
Use #HRSAHonorsWAD on social media
Equity. Everyone's Voice. Ending the HIV Epidemic. Read on to learn about HRSA's technical assistance work in each of these interrelated areas and see the Technical Assistance Directory for the full range of support for the Ryan White HIV/AIDS Program (RWHAP).
Equitable Access
Equity has been a principle of the RWHAP since its inception in 1990. The outcome of that drive for equity is apparent in the data. RWHAP programs track and work on narrowing disparities in HIV care access and outcomes across social determinants of health, including gender, sexuality, age, race/ethnicity, and housing status. Disparities have been narrowed, but the work is unfinished. 

Select Technical Assistance Resources
Everyone's Voice
Consumer involvement is a legislative requirement and driving principle of the RWHAP in planning and care delivery. The foundation is deeply rooted in the work of individuals and community agencies from the earliest days of the epidemic. Read more in AIDS at 40: Envisioning a Future We Never Imagined.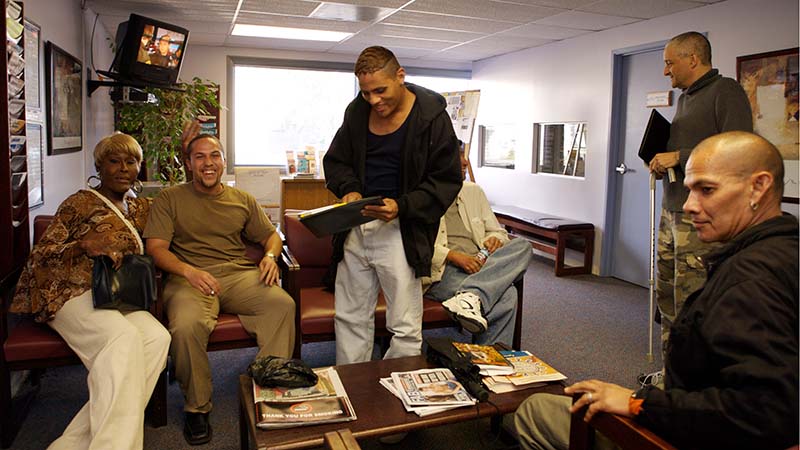 Select Technical Assistance Resources
Ending the HIV/AIDS Epidemic
HRSA programs play a key role in the Ending the HIV Epidemic (EHE) plan. Activities include funding to select Part A (urban areas) and Part B (states) under the RWHAP. 
Learn more about HRSA EHE activities under the RWHAP and HRSA Health Centers.   
Select Technical Assistance Resources
HRSA has funded the TAP-in: Technical Assistance Provider-innovation network to provide technical assistance and training support for EHE jurisdictions. Services include:
A national network of TA coaches and virtual support (watch the video to learn more about the TA services, starting at 1:40).  
The TAP-in Webinar Series on interventions to improve HIV responses. Examples include rapid ART, reaching people at high risk in emergency room settings, addressing substance use disorders, and dealing with cluster outbreaks.
Rapid ART: An Essential Strategy for Ending the HIV Epidemic, the first of TAP-in Resources out-of-the-gate, presents tools on implementing HIV care innovations. 
Part of Collection
Browse for More
Topic Areas
Clinical Quality Management
,
Disparities
,
Quality Improvement
,
Health Coverage
,
Assessing Plans for RWHAP Clients & ADAP
,
Enrolling & Accessing Health Coverage
,
Enrollment Resources for Consumers
,
Emerging and Innovative Models
,
HIV Care Continuum
,
Retaining in Care
,
Antiretroviral Treatment
,
Achieving Viral Suppression
,
Key Populations
,
Black/African American
,
Cultural Competency
,
Hispanic/Latino
,
People with Disabilities
,
Adolescents & Youth
,
Incarcerated
,
MSM - Men who have Sex with Men
,
Rural
,
Transgender People
,
Women
,
Medical & Support Services
,
People with HIV & Community Involvement
,
Community Advisory Boards
,
Leadership
,
Peer Programs
,
Stigma/Legal
,
Planning
,
Planning Body Operations
,
Program & Grant Management
,
Ryan White HIV/AIDS Program & Parts
,
Part A - Hard Hit Urban Areas
,
Part A - Planning Councils
,
Part B - States/Territories
,
Part B - AIDS Drug Assistance Program (ADAP)
,
Part C - Community-Based Early Intervention
,
Part D - Women, Infants, Children, Youth
,
Part F - Dental Programs
,
Part F - Global HIV/AIDS Programs
,
Part F - SPNS Models of Care