Wednesday, September 23, 2020 - 2:00pm to 3:30pm EDT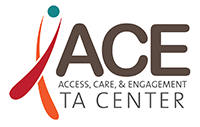 Join the ACE TA Center on Wednesday, September 23 from 2:00 to 3:30 Eastern Time for the annual new staff orientation webinar, designed to introduce new program staff (or staff with new roles) to the ACE TA Center. The webinar will cover ...
The unique health coverage needs and concerns of people with HIV

Information on clients' basic questions about enrolling in health insurance and staying covered, including enrolling into Medicaid and Medicare coverage.

Description of typical transitions between different coverage types, including when and why these transitions may occur.

How the Ryan White HIV/AIDS Program, including ADAP, complements health coverage and supports continuity of care
Throughout the presentation, ACE TA Center tools and resources will be highlighted.
Browse for More