National Native HIV/AIDS Awareness Day
National Native HIV/AIDS Awareness Day
Event Date:
Tuesday, March 20, 2018 (All day)
Event Type: Awareness Day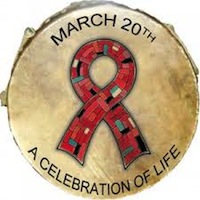 National Native HIV/AIDS Awareness Day (NNHAAD) is a nationwide effort designed to promote HIV testing in Native communities through educational materials and use of marketing strategies. Activities include outreach and education, expanding HIV testing opportunities, and addressing HIV/AIDS-related stigma.
See all HIV/AIDS Awareness Days.
Thursday, August 9, 2018 -

2:00pm

to

3:30pm

EDT

Wednesday, August 15, 2018 -

2:00pm

to

3:00pm

EDT

Thursday, August 16, 2018 -

2:00pm

to

3:30pm

EDT

Wednesday, August 22, 2018 -

2:00pm

to

3:30pm

EDT

Thursday, August 23, 2018 -

2:00pm

to

3:30pm

EDT

Monday, August 27, 2018 -

12:00pm

to

1:30pm

EDT

Thursday, August 30, 2018 -

2:00pm

to

3:30pm

EDT
Browse for More
Topic Areas:

Consumers/Patients

,

Patient Education

,

HIV Care Continuum

,

Prevention

,

HIV Testing & Diagnosis

,

Retaining in Care

,

Health Literacy

,

Key Populations

,

Cultural Competency

,

Ryan White HIV/AIDS Program & Parts

,

Part A - Hard Hit Urban Areas

,

Part A - Planning Councils

,

Part B - States/Territories

,

Part C - Community-Based Early Intervention

,

Part D - Women, Infants, Children, Youth

,

Part F - HIV/AIDS Clinical Training

,

Part F - SPNS Models of Care

,

Part F - Dental Programs

,

Stigma/Legal