Tuesday, May 24, 2022 - 3:00pm to 4:00pm EDT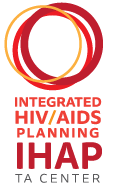 The fifth session in our Integrated Planning Webinar and Peer Learning Series will focus on Section V of the Integrated Plan Guidance - 2022-2026 Goals and Objectives. This section details the "what" and "how" of your Integrated Plan, and will serve as the playbook for health departments, service providers, stakeholders, and consumers through 2026.

The peer learning session is an opportunity for jurisdictions to connect. The session will be moderated by IHAP TAC team members, but is intended to be an open forum for jurisdictions to ask questions, share their experiences, and engage in conversation with each other. You do not need to attend the webinar in order to attend the peer learning session.