Thursday, June 17, 2021 - 1:00pm to 2:00pm EDT
Technical Assistance Provider Innovation Network (TAP-In)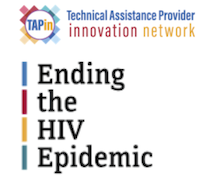 Your jurisdiction is implementing new and innovative models of care and interventions to end the HIV epidemic. Do you have the right data sources to support these efforts?
TAP-in, the HRSA-funded training and technical assistance provider for Ending the HIV Epidemic (EHE) jurisdictions, can provide programmatic technical assistance to improve your capacity to identify and use data to:
Increase the frequency and quality of data sharing from various sources
Improve health outcomes for people with HIV
Improve decision making on resource allocation
In this interactive on-line TA event, our subject matter experts, who live and breathe data, will provide you some tips on linking to the best data sources and helping the EHE team in your jurisdiction to integrate data management into implementation activities.
Speakers
TAP-in Monitoring and Evaluation Team
Ellie Coombs, MPP - Senior Associate (Mission Analytics)
AJ Jones, MA, MPH - Senior Analyst (Mission Analytics)
Debbie Isenberg, MPH - Director (Isenberg Consulting)
Learn more about TAP-in, the Technical Assistance Provider Innovation Network