Screening, Brief Intervention, and Referral to Treatment (SBIRT) is an evidence-based system-level integrated care approach to identify, reduce, and prevent patterns of substance use that put the health of people with HIV at risk. SBIRT has three basic steps: (1) screening for level of substance use (alcohol and drugs), (2) providing a brief intervention to increase awareness of substance use risk and motivation to change behaviors, and (3) referring clients for further evaluation and treatment as needed. In collaboration with HIV experts, SBIRT experts, and community members, E2i adapted SBIRT for the Ryan White HIV/AIDS Program (RWHAP) and produced a toolkit that provides the resources needed to implement SBIRT within RWHAP settings and other HIV care organizations. 
Goal
To identify, reduce, and prevent patterns of substance use that put the health of people with HIV at risk 
Priority Population
SBIRT is for all people with HIV, regardless of level of substance use
Core Elements
1.     Universal Screening 
All clients with HIV are screened at least annually for alcohol AND drug use
2.    Brief Intervention
Clients with low or no substance use receive positive reinforcement
Clients with moderate to severe substance use receive one or more brief interventions to increase awareness of their substance use, and to begin to engage in behavioral intervention
3.    Referral to Treatment 
Clients with severe substance use are referred for further evaluation and specialty treatment after the brief intervention
Duration
SBIRT is a systems-level intervention that may continue indefinitely
Clients may receive SBIRT annually 
Settings
Anywhere people with HIV receive services 
Toolkit Components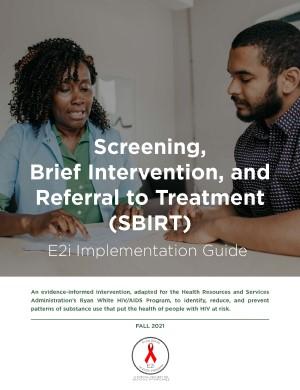 This Guide includes:
How to plan and implement the intervention
Lessons learned during implementation in RWHAP settings
Outcomes from the E2i initiative
SBIRT E2i Implementation Guide (PDF)
A Spanish version of the Implementation Guide is coming soon!
Watch an instructional dramatization of how to deliver SBIRT to clients.