ADR Web System Refresher
ADR Web System Refresher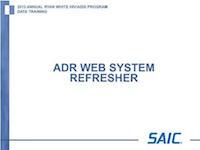 Instructions for grantees on general navigation through the ADR web system, covering saving, uploading, printing, and more.
Grantees will learn how to:
Save information within the sections.
Handle page-level and report-level validations.
Upload client-level data and understand basic schema errors.
Print the Grantee Report and Upload Confirmation Report.
Submit the report.
Un-Submit the report.