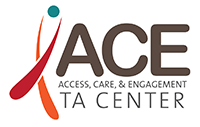 Review of the importance of health literacy and health insurance literacy for people with HIV and how to help clients navigate the health care environment.
Case studies and scenarios highlight how providers and staff can help clients understand care and treatment information while engaging them in discussions about their own health goals. Presenters from the ACE TA Center and the HRSA-supported In It Together: National Health Literacy Project for Black Men Who Have Sex with Men share best practices and resources.
Components
Questions and answers from the webinar, Health Literacy & Health Insurance Literacy: Helping Consumers Access Care and Use Coverage.
Supporting Files