HRSA HIV/AIDS Bureau (HAB)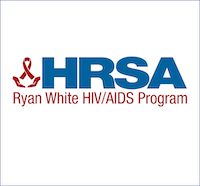 Information to support Ryan White HIV/AIDS Program (RWHAP) recipients in responding to the Notice of Funding Opportunity HRSA-22-018. 
2017-2019 HIV Care Continuum Surveillance Data - April 16, 2021
The HIV/AIDS Bureau, Division of Metropolitan HIV/AIDS Program (DMHAP) is providing Eligible Metropolitan Areas and Transitional Grant Areas with 2017-2019 Centers for Disease Control and Prevention (CDC) surveillance data for each stage of the HIV care continuum (download Excel file).
The data are presented for diagnoses of HIV infection reported to CDC through December 2020. The data contained in this report was provided by the CDC Division of HIV/AIDS, Viral Hepatitis, STD and TB Prevention. It has been formatted by HAB DMHAP Data Team for recipients to respond to the Ryan White HIV AIDS Program Part A FY2022 Notice of Funding Opportunity.
Part of Collection