The Impact of Ryan White Care
The outcomes of HIV care delivery by agencies funded by the Ryan White HIV/AIDS Program (RWHAP) have been summarized in two recent forums by Dr. Laura Cheever, Associate Administrator for the HRSA HIV/AIDS Bureau. This article summarizes some of those findings as inspiration for grant recipients and others as they plan their workshops and poster sessions for for the 2016 National Ryan White Conference on HIV Care and Treatment this August.
Ryan White and the HIV Care Continuum
According to national data on persons living with HIV in the U.S., in 2014, 40% were "engaged in HIV medical care" and 30% were "virally suppressed." When examining similar outcomes along these two points in the HIV care continuum, individuals getting HIV care under the RWHAP faired much better: 80.4% achieved "retention in care" while 81.4% were virally suppressed, according to the 2014 RWHAP Client-Level Data Report.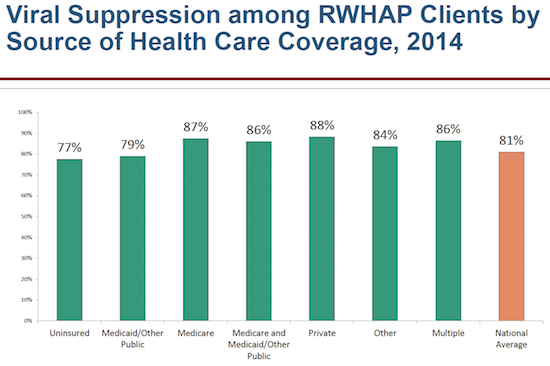 Ryan White: Focus Still on Filling Gaps in Care
These results reflect the program's long-standing focus on filling gaps in care not covered by health insurance coverage. That focus is unchanged as, even before the Affordable Care Act was enacted, most Ryan White clients (approximately 70%) were being covered by other public or private payers. Today, about three quarters of RWHAP clients have other coverage (see below chart and the Client-Level Data Report, Table 1).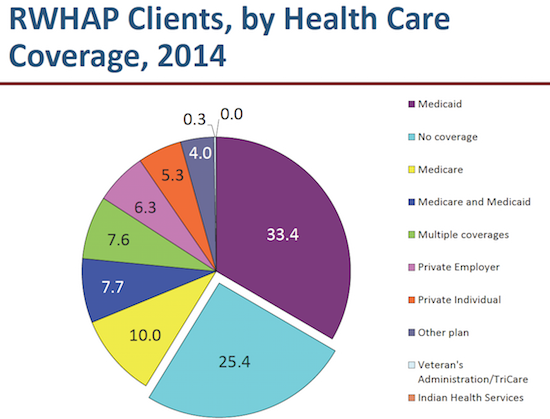 A Ryan White Clinic Visit
The means by which the RWHAP achieves improved outcomes by filling gaps in care can be examined in the context of what happens in a typical clinical visit.
Ryan White provides a wide range of outpatient medical care and support services--comprehensive care that wraps around other funded services--made possible by a the Ryan White infrastructure (see sidebar). The intensity of such care in a Ryan White visit, compared to a non-Ryan White visit, is significant.
A Ryan White clinic visit can vary greatly in nature, depending on the type of visit, and may last anywhere from 15 minutes to more than 2 hours. For new patients, the median visit time is 145 minutes, whereas virally suppressed patients are on a good path and require far less time--41 minutes on average. In contrast, visits by unsuppressed or non-adherent patients last 77 minutes on average, and clients with multiple diagnoses are seen for an average of 90 minutes. That time can be spent with a doctor, a nurse, a pharmacist, a counselor, a case manager, or other staff members.
What factors are associated with such visits? While a typical primary care visit lasts 15 minutes, a Ryan White primary care visit averages 40 minutes, with the added time in comparison with a standard primary care session being consumed by primary care treatment and screening beyond HIV care and treatment (15 minutes) and patient education, such as adherence counseling and prevention with positives (14 minutes).
A RWHAP visit includes a range of services that fall under a broad funding category called Outpatient Ambulatory Medical Care or OAMC. Some of these services are typically reimbursed by insurance (e.g., diagnostic testing, preventive care and screening, medical history taking). However, OAMC also includes an array of services that are not typically reimbursed (e.g., education and counseling around taking and managing antiretroviral regimens, adherence counseling). These additional services and the time they take to deliver are critical for improved outcomes associated with RWHAP care, particularly for patients with lower incomes and health literacy.
Browse for More
Topic Areas:

Clinical Quality Management

,

Data & Reporting

,

Fiscal Management

,

Health Care Reform

,

HIV Care Continuum

,

Linking to Care

,

Retaining in Care

,

Achieving Viral Suppression

,

Medical & Support Services

,

Medical Homes

,

People Living with HIV & Community Involvement

,

Stigma/Legal

,

Planning

,

Program & Grant Management

,

Ryan White HIV/AIDS Program & Parts

,

Part A - Hard Hit Urban Areas

,

Part A - Planning Councils

,

Part B - States/Territories

,

Part B - AIDS Drug Assistance Program (ADAP)

,

Part C - Community-Based Early Intervention

,

Part D - Women, Infants, Children, Youth

,

Part F - Dental Programs

,

Part F - HIV/AIDS Clinical Training

,

Part F - SPNS Models of Care