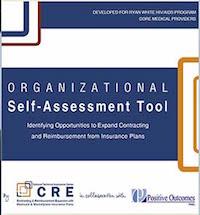 Tool for assessing your organization's strengths and gaps in areas that (1) are important to insurers and (2) support maximizing revenue from contracting activities. The self-assessment provides the tools to:
Examine your organization's capacity in the key areas that are important for contracting.
Prepare to emphasize your organization's strengths when entering negotiations.
Identify organizational gaps that you and your colleagues can begin to address.
The Self-Assessment Tool is designed for organizations with HIV services as the single focus, larger, multi-program organizations, and organizations with multiple HIV program sites. 
This tool contains three self-assessments, which examine different areas of your organization that are important for contracting with insurance plans participating in Medicaid and the ACA Marketplace. 
Staff time is the principal investment in conducting the assessment. The results can help bring your organization to a new level of contracting and third-party reimbursement. 
Part of Collection