Preguntas comunes y respuestas sugeridas para involucrar a los clientes en la cobertura de salud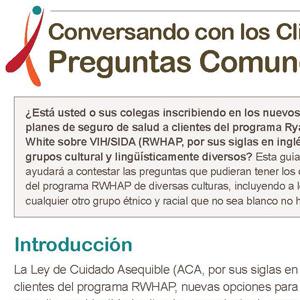 Esta guía puede ayudar a los proveedores RWHAP a hablar con sus clientes sobre la nueva cobertura de salud. La guía provee ejemplos de cómo responder a las preocupaciones de los clientes sobre el acceso y posibles cambios de proveedor o cobertura. También, incluye ejemplos de respuestas que reconocen y responden a las inquietudes de los clientes que no confían en el sistema de salud, o que pueden estar preocupados por el impacto de la inscripción en el estatus migratorio de sus familiares. This guide can help RWHAP providers start talking with their clients about new health coverage. The guide provides examples about how to address client concerns about affordability and possible changes in their provider or coverage. It also includes sample responses that acknowledge and respond to the concerns of clients who may not trust the health system, or who may be concerned about the impact of enrollment on family members' immigration status.
Esta guía se debe usar como una herramienta de capacitación, en lugar de un guión, para que el personal se familiarice con las posibles inquietudes de los clientes y la mejor manera de enfrentarlas.
Related ACE TA Center Resources