Ryan White and HIV/AIDS Aging Awareness Day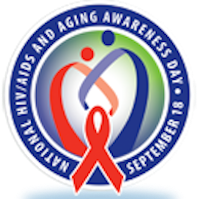 Nearly half of Americans with diagnosed HIV are aged 50 and older. Most contracted HIV at a younger age and are living longer because they are engaged in HIV/AIDS care and benefiting from effective treatments. However, a significant proportion contracted HIV after age 50: in 2016, 17% of new HIV infections occurred among persons over 50. 
Ryan White and Older Americans
The Ryan White HIV/AIDS Program (RWHAP) client population is aging. Clients aged 55 and older accounted for 29.4% of all clients in 2017, up significantly from 16.6% in 2010 (see Figure 1).
A large proportion of RWHAP clients (45-54 year olds) are on the cusp of joining the 55+ age group. A session at the 2019 Conference on Retroviruses and Opportunistic Infections (CROI) included this population and presented data that 45.2% of RWHAP clients were over 50 years old, with a projected upward trend to reach 64% by 2030. Learn more in the poster, Projected Growth and Needs of Aging People Living with HIV in HRSA's Ryan White HIV/AIDS Program, presented by HRSA staff and summarized in this HIV.gov blog HRSA Analyzes Growing Ryan White Client Population Over 50 Years Old (Figure 2).
Clinical Insights: HIV Care for Older Persons with HIV
The AETC National Coordinating Resource Center has a collection of presentations and clinical tools on HIV care among persons over 50. Examples include the National HIV Curriculum and its Topic: HIV in Older Adults, with guidance on, for example, screening, treatment, and managing co-morbidities. 
Care concerns for older persons are robustly summarized in 10 Things to Know about the Older Patient with HIV Infection, a December 2018 RWHAP Clinical Conference talk by Howard Libman, MD from the New England AETC. His remarks review data on the impact of HIV infection on the normal aging process, the development of various co-morbidities (most notably coronary artery disease and premature bone loss) and changes in mortality patterns.
Key points:
People over 50 years old present as HIV-positive at an earlier stage of disease than other age cohorts.
Immunologic response to antiretroviral therapy is less robust in this population (e.g., CD4 levels don't rise as fast) but viral suppression is just as achievable as it is with younger persons living with HIV. 
Older people are more antiretroviral therapy treatment adherent but drug toxicity occurrences are higher. 
Chronic conditions occur earlier and with greater frequency among HIV-infected older persons versus non-infected individuals in their age group.
Learn about the rest of the top 10 in the 30-minute video presentation and the follow-up Q/A session. 
Intersection of Geriatric and HIV Care
HIV care and geriatrics have some important intersections. Watch Practical Aspects of Caring for People Aging with HIV, a presentation by Eugenia Siegler, MD at the 2017 Ryan White HIV/AIDS Program Clinical Care Conference reviews the risk of frailty among older persons with HIV, the fundamentals of geriatric care, and tools clinicians can use in caring for their older patients, including screening tools for frailty and cognitive impairment. 
Part of Collection