USCA 2015: It's the Continuum
USCA 2015: It's the Continuum
For Ryan White agencies, the steps, stages or points (take your pick) of bringing clients fully into care under the HIV Care Continuum are facilitated by a set of tools, core elements or principles (take your pick). See the five elements in the Ryan White Moving Forward (to your right) but realize how much more these "petals" represent. Treatment protocols. Quality management standards. Data and reporting systems. Planning. Service delivery innovations.
This wrap-up version of our USCA 2015 Daily Feed skims the surface of a few HRSA USCA sessions held in the last two days that operationalize the incredible infrastructure put into place over the 25 Years of the Ryan White HIV/AIDS Program.
Service Delivery Innovations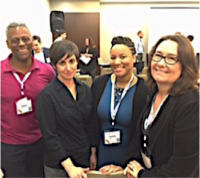 Six projects with insights on ways to document and enhance the HIV continuum of care. How can you summarize that in a few sentences? Can't be done. Thus, we present the very briefest of insights from the HRSA session Moving Forward on the HIV Continuum of Care.
Data exchange across state lines (patience, need, the right staff, and a secure portal are all necessary).

Use of data to determine the current HIV care continuum and where to make improvements.

Data sharing across prevention and care programs to monitor engagement along the continuum.

Continuum of care data and resulting projects at the city and state levels to focus on improving outcomes.

Patient navigator and data sharing activities in a former ASO site that achieved FQHC status.
PLWH and Planning, Quality Improvement
Involvement of people living with HIV (PLWH) has long been the backbone of the Ryan White HIV/AIDS Program in terms of design and delivery of quality services that are responsive and appropriate.
The roundtable Ryan White HIV/AIDS Program Planning and PLWH outlined the legislative and program guidances around consumer involvement and successful examples of such participation, like membership on planning bodies and involvement in consumer surveys and town hall forums. Another session, PLWH at Work in Planning & Quality Improvement, highlighted a recruitment video developed by the Boston Ryan White Planning Council. The video (see below) was suggested by a planning council member and was a technique not used previously.