Webinar Q&A: Health Literacy & Health Insurance Literacy: Helping Consumers Access Care and Use Coverage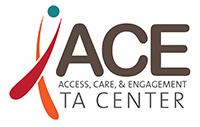 The following questions and answers come from the July 21, 2016 ACE TA Center webinar, Health Literacy & Health Insurance Literacy: Helping Consumers Access Care and Use Coverage.
Questions
Answers
1. Are there ACA assister training courses available to health department staff?
Yes, you can get information about how to get certified as a Certified Application Counselor (CAC) from CMS at: https://marketplace.cms.gov/technical-assistance-resources/assister-programs/cac.html
2. Are there ACA assister training resources available to health department staff?
Go to targethiv.org/assisters to find resources designed specifically for enrollment assisters (including navigators) who are new to helping people living with HIV get enrolled in health coverage.
Also, please see the response to the previous question for information on how your staff can become Certified Application Counselors.
3. How can I best interact with other organizations to gauge their level of health literacy?
When available, the In It Together website will have a map of organizations that have been trained. You may also consider asking your clients which organizations provide information in the way that they best understand it.
4. What if the patient is illiterate? Is there picture literature available?
Some materials have pictures, and they can be really useful. Pill cards can be useful for helping people to understand which medications they need to take and when they need to take them.
Universal symbols are also useful and should be used whenever possible. Universal symbols include the people who are used on bathroom signs, a sun to indicate daytime and a moon to indicate night, or a no smoking symbol. Of course, it's always a best practice to test your materials with clients/patients to ensure that they understand them.
How to create a Pill Card: 
5. Do you have posters in different languages to promote health insurance enrollment?
Yes, English and Spanish language versions of all of our posters are now available at /ace/resources-consumers
6. It's common for patients to receive a visit summary which are primarily printed from the EMR system. How can health literacy be considered in this process?
Start by running the text of a typical visit summary through one of the reading level tests, such as in Microsoft Word, in order to determine the level from which you are starting.
If the visit summary is above a 6th grade reading level, see what you can do to bring the level down using the strategies for written communication.
It will also improve accessibility if you can increase the font size and add more white space. It might be worthwhile to have a sample of what you want your final visit summary to look like - and it would be a best practice to have a client with limited health literacy provide feedback to see if it meets their needs. You may need to work with your EMR vendor to modify your visit summary template.
7. What are your thoughts about using a health literacy assessment tool?
Health literacy assessment tools could be useful if you want to determine your client's literacy level. However, they can take a bit of the limited time health professionals have, so these are typically only used in research studies in order to ensure that the participant group has the desired health literacy levels.
Rather than focusing on an individual's health literacy, take a universal precautions approach to health literacy. Provide clear, easy to understand information to all patients, regardless of the health literacy level that they have, or that you think that they have.
Resources
There are many resources out there to help your organization achieve its health literacy goals. Useful resources include: