Webinar Q&A: Supporting Health Coverage Enrollment for Ryan White HIV/AIDS Program Clients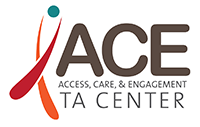 The following questions and answers come from the August 10, 2016 ACE TA Center webinar, Supporting Health Coverage Enrollment for Ryan White HIV/AIDS Program Clients.
Questions
Answers
1. What income level (for one person) is equal to or above the Federal Poverty Level (FPL)?
See federal poverty levels, which are updated every year.
2. Will there be any extended coverage to those that do not fall under the umbrella coverage of Medicaid/Medicare?
For those who do not fall under the umbrella coverage of Medicaid or Medicare, there are many different ways that the states and Part A programs are managing these complex environments. We would encourage you to be in touch with your state and local RWHAP programs to see what the options are in your area. Also, more states are adopting Medicaid expansion each year.
3. What is the difference between a Certified Application Counselor (CAC) and a Navigator?
Certified application counselors (CACs) and navigators are both very familiar with the health coverage application process. A CAC receives specific training in order to become certified in providing assistance with enrollment into health insurance. A navigator is an individual trained to help consumers, small businesses and their employees as they look for health coverage options through the Marketplace, including completing eligibility and enrollment forms. In either case, these individuals and organizations are required to be unbiased.
Learn more about how to become a CAC.
4. Are there provider or consumer-facing resources on the ACE TA Center that do not refer to HIV? Many clients do not want documents to take with them that may disclose their status.
Clients could also access and use tools from the website instead of taking a paper copy. This could also allow for more privacy. In addition, organizations are welcome to use information from the ACE TA Center's resources to create materials that will be most suitable for your clients.
In order to help maintain confidentiality of HIV status, forms can be kept by the Case Manager rather than having the client take them with him or her.
5. Are the videos regarding health insurance available on DVD to play in a lobby setting?
We are exploring ways to post a version you can download for that purpose. In the meantime if you have internet in your lobby, waiting room or other area where you want to show the videos, you can certainly play it via YouTube.
If you are interested in downloading a copy of the videos, or need the videos in a different format to play at your organization, please email us and we will do our best to assist you.
6. What type of copay assistance does the Ryan White Program offers to clients?
The Ryan White HIV/AIDS Program permits its recipients to provide premium and cost-sharing assistance, but the types of assistance vary by state. We encourage you to be in touch with your state and local RWHAP programs to see what the options are in your area.
7
. Where can we get the ADAP application?
Applications vary by state and we suggest working with a local Ryan White Program case manager (or directly with your ADAP program) to complete the application process. Here is a link to NASTAD's ADAP Coordinator Directory.
8. One of our HIV patients missed open enrollment in Maryland, and she recently was diagnosed with ovarian cancer. Can she still enroll for coverage under a Maryland health plan?
If this person is eligible for Medicaid, she can apply anytime. Otherwise she will need to wait until the next Marketplace open enrollment period, unless she has a life event or other special circumstance that would open a special enrollment period for her.
9. Where can we find a list of navigators in our area?
We would encourage you to look for an enrollment assister in your community that your organization can partner with. You can start by looking at https://localhelp.healthcare.gov. You may find that not all organizations are well versed in the plan needs of PLWH, so you'll want to provide some orientation on the specific needs of people living with HIV. Helpful resources can be found on our enrollment assisters page, where we've posted a video and a fact sheets for enrollment assisters who are new to supporting people living with HIV through the enrollment process.
10. What is being done so far to make sure that insurance is explained well to clients?
We suggest you visit our Tools & Resources section, where we provide key concepts and information
Such as the following:
Plain Language Guide
Getting Coverage For the First Time
Making the Most of Your Coverage
Tax Credits and How to File Taxes
11. What about undocumented people? Will they just continue to get Ryan White or is there some other type of coverage for them?
You may find our webinar titled "Access to Health Coverage for Immigrants Living with HIV" helpful. The webinar page also links to our quick reference guide on this topic.
12. Do you provide educational and other type of assistance to CBOs serving as Navigators and CACs?
We encourage you to send enrollment assisters to www.targethiv.org/assisters. The ACE TA Center staff does provide some limited training and education to navigators and CACs. For example, we presented to over 600 enrollment assisters on a CMS-sponsored national enrollment assister call in early July.
13. Why would someone not be eligible for tax credit if they choose not to have insurance through their employer?
The premium tax credit is only available to people without another offer of affordable and adequate coverage. Therefore, in many cases, this will mean that people with employer-sponsored coverage will not be eligible for the premium tax credit because they have access to affordable and coverage that provides specific essential health benefits.
14. Is it a good idea for HIV care agencies to have a trained ACA personnel to assist clients?
It is a best practice, for HIV service organizations that have the resources, to consider getting a staff person trained as a CAC. This person would then have expertise to assist clients with enrollment. 
15. How do the clients identify what plans do not require using Specialty Pharmacies?
Just like different health plans cover different medications, different health plans allow you to get your medications from different pharmacies (called "in-network pharmacies"). The best way to get the most current information is to call the insurance company or visit their website to find out which pharmacies are in-network, and whether specific pharmacies are required.
16. If you are a new Assister and would like some guidance is there anyone you could talk to?
For general assister guidance, including training and resources, we recommend signing up for the CMS assister webinars.
In addition, Families USA offers an online resource center for health care coverage assisters and navigators. This resource is not HIV-specific and does not include information regarding the Ryan White Program or ADAP, but does offer a variety of helpful information regarding the enrollment process.