From the ACE TA Center Listtserv
The start of Marketplace Open Enrollment is just days away. Now is the time to learn more about plans being offered, schedule enrollment appointments, and brush up on the various types of financial assistance available.
Final Open Enrollment Preparation Checklist
Learn more about the Marketplace plans being offered in your area. Plan options and prices are now available for preview on Healthcare.gov. Ask your program director if anyone in your network is assessing and recommending plans for people with HIV. Often, this is done by your local ADAP or Part A Program. If no one is analyzing Marketplace plans in your area, you can preview plans and prices on HealthCare.gov. Then, help your clients find the best plan to fit their needs using the ACE TA Center Health Care Plan Selection Worksheet.
Start scheduling enrollment appointments and help clients gather the information they'll need for their application. Schedule enrollment appointments now, and use the ACE TA Center Preparing for Your Enrollment Visit Worksheet to help clients start to gather the information and documentation they will need during their enrollment appointment.
Familiarize yourself with the different types of financial assistance for Marketplace plans available for qualified clients. It's important to understand what kinds of financial support are available to help cover some of the costs of health insurance. Two types of financial assistance are available through the Marketplace for eligible consumers:
| | |
| --- | --- |
| Premium Tax Credit (PTC) | Cost-Sharing Reduction (CSR) |
| A tax credit to help lower the cost of premiums for health coverage for Marketplace health plans. Advance payments of the tax credit can be used right away to lower monthly premium costs. | A discount that lowers the amount individuals and families have to pay out-of-pocket for deductibles, coinsurance, and copayments. CSRs are NOT used to pay premiums. |
Learn more about PTCs and CSRs including who is eligible, how to apply, and the relationship between premium tax credits and tax filing, by visiting the ACE TA Center FAQ on PTCs and CSRs, or completing this eLearning module.
And remember: the RWHAP may be able to help eligible consumers pay remaining health insurance premiums and/or out-of-pocket expenses. Check with RWHAP recipients in your state, including ADAP, to learn more.
Deadline Reminders
2021 Open Enrollment begins on November 1 and ends on December 15 for most states including those that use HealthCare.gov.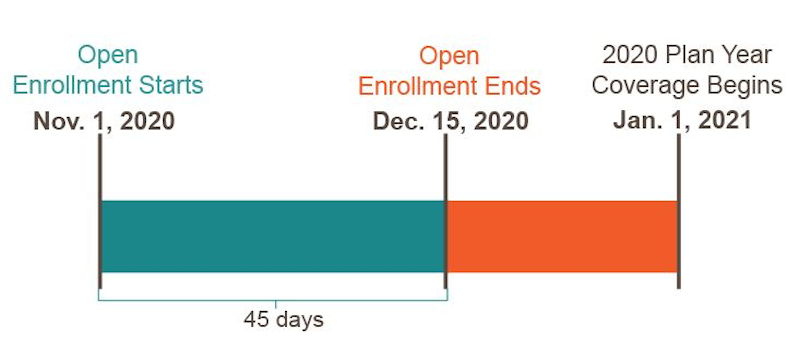 Some states with their own state-based health insurance exchange have extended their 2021 Open Enrollment periods dates for 2021 coverage, as noted below:
California: January 15, 2021
Colorado: January 15, 2021
Connecticut: December 15, 2020
D.C.: January 31, 2021
Idaho: December 15, 2020
Maryland:  December 15, 2020
Massachusetts: January 23, 2021
Minnesota: December 22, 2020
New Jersey: December 15, 2020
New York: January 31, 2021
Nevada: January 15, 2021
Pennsylvania: January 15, 2021
Rhode Island: December 15, 2020
Vermont: December 15, 2020
Washington:  December 15, 2020
Use the ACE Twitter Toolkit for Marketplace Open Enrollment to share key enrollment and plan renewal messages with clients!
Have a specific question about Open Enrollment? Email the ACE TA Center.