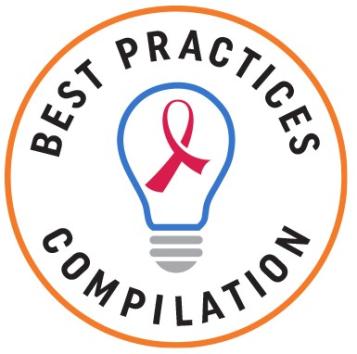 The Best Practices Compilation of HIV interventions with real-world tested efficacy has grown a bit more in March, with the addition of three interventions. 
Data to Care for People Coinfected with HIV and Hepatitis C Virus generated clinic-based lists of clients coinfected with HIV and HCV and used this information to link them to HCV treatment. This Michigan project was one of the SPNS demonstration sites under the Leveraging a Data to Care Approach to Cure HCV Within the Ryan White HIV/AIDS Program (RWHAP).
The Undetectables Program to Support Viral Suppression is a social media project supporting adherence to antiretroviral regimens. The program expanded from a community project to city-wide and is part of New York City's Ending the HIV Epidemic program.  
HIV Clinical Pharmacist Services allowed clients who were newly referred to HIV services to see a pharmacist, along with other clinicians, for their initial appointment. The program was part of an Oklahoma RWHAP clinic cohort study. Participants who saw a pharmacist saw, in comparison to those who only saw non-pharmacist providers: shortened time between referral and their first visit, less time before start-up of their antiretroviral therapy, and quicker realization of viral suppression.
Each intervention in the Best Practices Compilation is loaded with information about the intervention (e.g., needs addressed, outcomes, lessons learned, tools to implement the intervention).