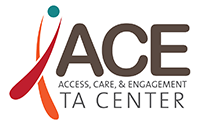 From the ACE TA Center Listserv
We're trying out a new way to webinar. Join the ACE TA Center on Tuesday, November 30 from 2:00-3:30 PM ET and Wednesday, December 8 from 2:00-3:30 PM ET for a two-part viewing of our 'Basics of Medicare Eligibility and Enrollment' webinar series followed by an extended, live Q&A session with expert panelists.
Our Medicare webinar offerings have been the most widely attended ACE webinars to date. The volume and complexity of the questions asked during these sessions prompted us to rethink our traditional webinar delivery model. Using this new (to us) format, we'll be able to answer more of your questions, and provide more comprehensive explanations of complex topics.
How will it work?
For this upcoming Medicare webinar series, we've pre-recorded the presentations. Once available, the recordings and accompanying companion guides will be posted on TargetHIV.org. This gives you the opportunity to either watch them with us during the live sessions on 11/30 and 12/8, or on your own, at a time most convenient for you. Immediately following the pre-recorded presentation on 11/30 and 12/8, we will offer a live, extended Q&A session with a full expert panel. 
Who is on the expert panel? 
ACE TA Center staff will be joined by:
Amy Killelea, Principal, Killelea Consulting LLC
Rachelle Brill, Program Manager, Expanding Coverage Through Consumer Assistance, Community Catalyst
Anne Callahan, ​BRIDGE Team Senior Program Coordinator, Community Research Initiative (CRI)
---
What will these webinars cover?
Medicare eligibility criteria and the different Medicare Parts (A, B, C, and D)
Medicare enrollment pathways for people with HIV
The role of the Ryan White HIV/AIDS Program in supporting clients with Medicare costs
Identifying and managing common Medicare enrollment challenges
Sources of external Medicare enrollment support
Sources of financial assistance for Medicare costs
ACE TA Center tools to support RWHAP program staff
---
Register for Part I: The Basics of Medicare Eligibility for Ryan White HIV/AIDS Program (RWHAP) Clients + Q&A - Tuesday, November 30, 2021 | 2 - 3:30PM ET
Register for Part II: Medicare Enrollment and Coverage for Ryan White HIV/AIDS Program (RWHAP) Clients + Q&A - Wednesday, December 8, 2021 | 2 - 3:30PM ET
Once available, the webinar recordings, slides, and webinar companion guides will be accessible year-round. The Q&A submission forms will be closed following the live session on December 8th.