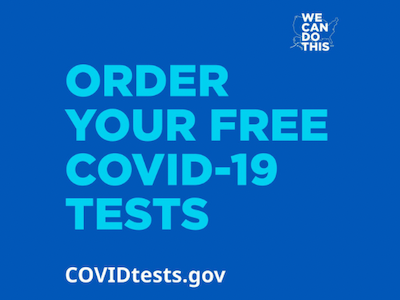 From HIV.gov - Free COVID-19 Tests Available: Visit COVIDTests.gov
Beginning on Monday, September 25, every U.S. household can again place an order on COVIDTests.gov to receive four more free COVID-19 rapid tests delivered directly to their home. 
Here's what you need to know:
Limit of one order per residential address.
One order includes four individual rapid antigen COVID-19 tests (COVIDTests.gov has more details about at-home tests, including extended shelf life and updated expiration dates).
Orders will ship free starting the week of October 2, 2023.
Before you throw out unused tests, check to see if your COVID-19 tests' expiration dates have been extended.
The COVIDTests.gov program has distributed over 755 million tests directly to more than two-thirds of American households, 310 million of which went to households in underserved communities. In addition to offering free tests to order, the U.S. government will continue to make COVID-19 tests available to uninsured individuals and underserved communities through existing outreach programs. Please contact a HRSA health center, Test to Treat site, or CDC Increasing Community Access to Testing (ICATT) location to learn how to access low- or no-cost COVID-19 tests near you.
For information about the impact of COVID-19 on people with HIV, visit our page, COVID-19 and People with HIV.