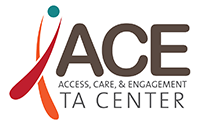 From the ACE TA Center Listserv
Marketplace Updates
Expanded Eligibility and Financial Subsidies under the American Rescue Plan. As of April 1, many people who earn between 100% and 400% of the federal poverty level (FPL) can qualify for increased financial help through premium tax credits (PTCs). People who earn below 150% FPL are now eligible for a $0 premium plan. Also, many people who make over 400% FPL are now eligible for Marketplace subsidies.
Learn more in our blog post, New Health Coverage Opportunities and Resources through the American Rescue Plan Act
Resources
For RWHAP Program Staff: New Tool. Health Insurance Literacy eLearning Module is an interactive, self-paced course to help Ryan White HIV/AIDS Program (RWHAP) staff who provide direct support to clients build strong health insurance literacy skills. In turn, staff can better assist clients with enrolling in and using their health coverage and staying covered. Staff will also learn about the connection between health insurance literacy and health literacy, types of health coverage, and how to enable clients to access various sources of financial support to keep their coverage affordable.
For Consumers. ACE consumer resources for Marketplace coverage are available in English, Spanish, and Haitian Creole. Among the selections:
Taxes and Health Coverage. Share this resource with clients to help them understand what they need to know if they enrolled in health coverage through the Health Insurance Marketplace.
Get Covered for a Healthy Life. Share this plain language guide with RWHAP clients to help answer common questions they might have about enrolling in health coverage, such as: "Why do I need health insurance?" and "Will insurance pay for my HIV medications?"
My Health Insurance Works for Me - Poster Series. This poster series is designed to spark conversations about the benefits of enrolling in health insurance, renewing coverage, and staying covered. 
Key Dates
Extended Marketplace Special Enrollment Period (SEP) for COVID-19 through August 15. An SEP is available to all HealthCare.gov consumers has been extended three more months and now ends on August 15, 2021. Many state-based Marketplaces are providing similar extensions. RWHAP recipients and service providers should make sure that enrollment staffing plans are up to date and ready to enroll clients through mid-August. This is especially important for programs that rely on seasonal or short-term staff during open enrollment periods, and for programs that rely on external enrollment partners. Learn more about this SEP.
Federal Income Tax Filing Deadline Extended to May 17, 2021. The federal income tax filing deadline for the 2020 tax year has been extended to May 17, 2021 by the Treasury Department and the Internal Revenue Service. See Taxes and Financial Help ACE TA Center resources.
Medicare Coverage
The Basics of Medicare for RWHAP Clients. The ACE TA Center will once again be offering The Basics of Medicare for RWHAP Clients on May 26 from 2-3pm Eastern Time, and June 9 from 2-3pm Eastern Time. In response to your feedback, we are splitting the webinar into two parts to slow the pace, take more time to explain the content, and expand the interactive segments. The webinars will cover Medicare eligibility and enrollment for people with HIV, and how to address common enrollment challenges.  
Medicare Prescription Drug Coverage for RWHAP Clients. This resource provides an overview of Medicare prescription drug coverage for RWHAP clients and other people with HIV, including enrollment requirements, how ADAP can help clients pay, and the donut hole for Medicare prescription drug coverage.