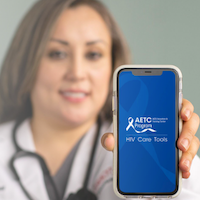 A wide collection of mobile apps and technology-focused tools to support HIV care have been developed under HRSA's Ryan White HIV/AIDS Program (RWHAP). As of Spring 2023, nine technology and mobile health tools with evidence on their efficacy have been compiled within the Best Practices Compilation. Each has demonstrated effectiveness at improving client HIV outcomes. Some have published evidence while others have shown their impact at the local level.
HIV Care Tools is an app for health care providers for use in providing point-of-care HIV screening, prevention, and care. The app was developed in 2021 by HRSA's AIDS Education and Training Centers program and its AETC National Coordinating Resource Center. 
Read more about Tech/Mobile Apps Supporting HIV Care.