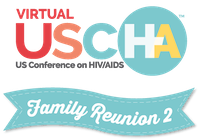 The virtual version of the U.S. Conference on HIV/AIDS ran from October 19-21, with five plenaries, 60 workshops, 12 institutes, and an Exhibit Hall. Below are sessions involving HRSA staff and Ryan White HIV/AIDS Program agencies. See HIV.gov for more HHS sessions held at USCHA.
All USCHA sessions can be viewed On Demand
Health Resources and Services Administration's (HRSA) Efforts to End the HIV Epidemic 
October 19, 4:00 – 5:00 PM ET 
This workshop will include an overview of what HRSA has funded as part of the Ending the HIV Epidemic: A Plan for America initiative; information on HRSA's ending the HIV epidemic activities; specific examples of recipient activities to end the HIV epidemic; lessons learned from COVID-19 response and how that can be leveraged for ending the HIV epidemic efforts. Authors: Susan Robilotto, HRSA; Brian Fitzsimmons, HRSA, Michael Carrigan, HRSA, and Tamika Martin, HRSA
How Do We Build #stigma-free Systems of HIV Care?
October 20, 1:00 – 2:00 PM ET
This workshop will highlight key activities and strategies that focus on implementing stigma-reducing approaches with an emphasis on cultural humility. The Health Resources and Services Administration (HRSA), HIV/AIDS Bureau (HAB) will share information on various federal activities that are designed to address stigma across the Ryan White HIV/AIDS Program (RWHAP) healthcare delivery system of care. This workshop will also engage stakeholders and discuss needs, challenges, and proposed strategies for addressing stigma for people with HIV at the individual, organizational, and systems levels of care. Authors: Antigone Dempsey, HRSA, LaQuanta Smalley, HRSA
Ending the HIV Epidemic in the United States Through Community Engagement: The Impact of the Stories We Tell
Date/Time: October 20, 3:00 – 4:00 PM ET
Community engagement often begins with integrating and investing in the lived experience from people with HIV, their families, and community partners. Engagement grows from there by listening and what happens next. The Health Resources and Services Administration's (HRSA) Ryan White HIV/AIDS Program (RWHAP) was established in the United States in August 1990 because of the stories of the many Americans facing HIV and AIDS and was named after a young man, Ryan White, whose story was shared widely and touched many. Thirty years later, the RWHAP continues the ongoing engagement with people with HIV, community-based organizations, providers, and health departments working together to address HIV in their communities. Authors: Antigone Dempsey, HRSA, Amelia Khalil, HRSA, Leandro Rodriguez, Latino Coalition on AIDS, Rafael Gonzales, Community Educator, San Bernardino
Let's Expand and Improve Telehealth: A Dialogue With You 
October 21, 12:00 – 1:00 PM ET
Expansion of telehealth in response to COVID-19 has opened up access and provided continuity of care for people with HIV and people interested in HIV prevention interventions, including PrEP.  Let's sustain these gains and improve upon them. What works well, what needs to be changed and how do we expand and enhance telehealth going forward? The purpose of this interactive program is to share experiences with telehealth from program, provider and patient/consumer viewpoints. Lessons learned will be highlighted, followed by a discussion of the policies and programs needed to expand and enhance telehealth services. This workshop will provide a dialogue with participants that will inform federal partners' strategies and activities to sustain, expand and enhance telehealth services for people with HIV and key populations. Presenter: Judith Steinberg, HHS Office of Infectious Disease and HIV/AIDS Policy
Federal Perspectives on EHE Efforts in the Era of COVID-19
October 21, 2:00 - 3:00 PM ET
Speakers from across HHS will present, including HRSA (Laura Cheever, MD, ScM, Associate Administrator for HIV/AIDS Bureau), CDC, NIH, SAMHSA, and the HHS Office of Infectious Disease and HIV/AIDS Policy