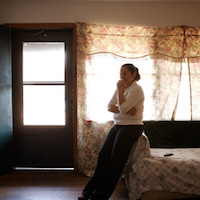 Ryan White agencies are well versed in the complexities of delivering HIV care to persons experiencing unstable and temporary housing. A recent report on a Medicaid managed care pilot project in California may provide some insights on leveraging payer and program supports. 
CalAIM: Leveraging Medicaid Managed Care for Housing and Homelessness Supports (NASHP, April 2021) builds upon a prior 1115 Medicaid waiver as well as the "Medicaid managed care section 1915(b) waiver and managed care contracting." The project, California Advancing and Innovating Medi-Cal program, or CalAIM, moves into its next phase as a result of a December 2021 approval by CMS, the agency that manages Medicaid at the federal level. 
Read the report and flip through the page accordion to get specifics on program design features. 
RWHAP Clients: Housing Status and Payer Sources
"In 2020, viral suppression varied by housing status; 76.8% of clients with unstable housing achieved viral suppression, compared to 83.8% of clients with temporary housing and 90.4% of clients with stable housing." HIV Care Outcomes: Viral Suppression, 2020, Slide 16 (PPTX) (HRSA, 2021)
"In 2020, of the 519,363 clients with reported housing status, 6.9% had temporary housing and 4.8% had unstable housing." Overview of clients served by RWHAP, 2020 Slide 8 (PPTX) (HRSA, 2021)
"In 2020, 80.6% of RWHAP clients had some form of health care coverage. Of the 533,443 clients with reported health care coverage information, 30.8% were covered by Medicaid, 10.6% were covered by Medicare, 10.1% had privateemployer coverage, 9.8% had multiple forms of coverage, 9.4% had private individual coverage, and 7.5% had both Medicare and Medicaid dual coverage. Nearly one-fifth (19.4%) of RWHAP clients had no health care coverage in 2020."   Overview of clients served by RWHAP, 2020 Slide 10 (PPTX) (HRSA, 2021)
Access our resources on Housing & Homelessness, featuring The HIV, Housing & Employment Project.