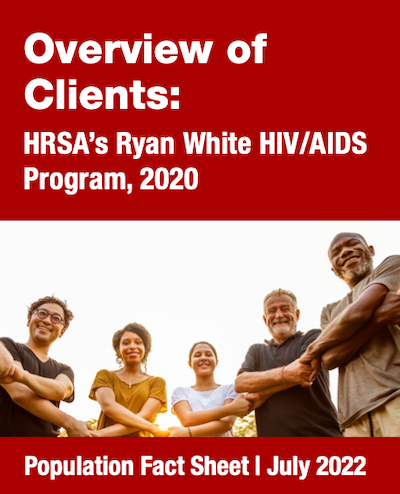 The latest versions of fact sheets on populations getting care from the Ryan White HIV/AIDS Program (RWHAP) were released by HRSA's HIV/AIDS Bureau.
Ten updated HIV/AIDS Bureau Fact Sheets, By Population, were published in July 2022, while number eleven (Rural Communities) came out September 2021. They include the following.
See our Key Populations topic pages for resources, by groups.
Overview of Clients: HRSA's RWHAP, 2020
Gender
Transgender Clients
Female Clients
Geographic
Ryan White HIV/AIDS Program: HIV Care and Treatment in Rural Communities, 2019
Race/Ethnicity
Hispanic/Latino Clients
Black/African American Clients
American Indian/Alaska Native Clients
Native Hawaiian/Pacific Islander Clients
Sexual Orientation
MSM Clients
Age
Older Adults
Youth and Young Adults
Browse for More
Topic Areas
Data & Reporting
,
Key Populations
,
Aging
,
Black/African American
,
Hispanic/Latino
,
Adolescents & Youth
,
MSM - Men who have Sex with Men
,
Rural
,
Transgender People
,
Women
,
People with HIV & Community Involvement
,
Ryan White HIV/AIDS Program & Parts
,
Part A - Hard Hit Urban Areas
,
Part A - Planning Councils
,
Part B - States/Territories
,
Part B - AIDS Drug Assistance Program (ADAP)
,
Part C - Community-Based Early Intervention
,
Part D - Women, Infants, Children, Youth
,
Part F - Dental Programs
,
Part F - HIV/AIDS Clinical Training
,
Part F - SPNS Models of Care