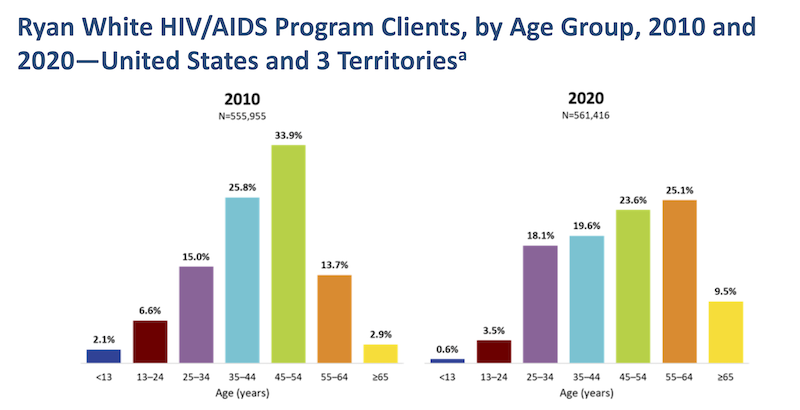 HRSA's HIV/AIDS Bureau has added a new slide deck summarizing Ryan White HIV/AIDS Program (RWHAP) clients and their health outcomes. The 14 slides in Clients Aged 50 Years and Older Served by the Ryan White HIV/AIDS Program, 2020 (PPTX) (HRSA, March 2022), provide: 
Demographics of RWHAP Clients Age 50 and Above
Most of the slide deck is devoted to client characteristics and trends. For example, the 50+ RWHAP client population has nearly doubled since 2010. This population is predominately male and low income. Furthermore, 44.2% are Black/African American; 5.4% had temporary housing while 3.6% had unstable housing.
Viral Suppression
A single slide summarizes rates across 50+ RWHAP key populations, with an overall viral suppression rate of 92.9% in 2020 (77.6% in 2010). The rate is slightly above the overall rate of 89.4% for the overall RWHAP population. Viral suppression rates top 90% across most categories of RWHAP clients 50 and older, except for those who are unstably housed (81.0%).