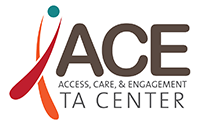 From the ACE TA Center Listserv
This upcoming Open Enrollment period may look and feel a little different than past years. Make sure that your organization is taking all the necessary steps to ensure your clients' enrollment experiences are quick, efficient, and successful.
This year, many case managers and enrollment assisters have been enrolling clients in health coverage through the Healthcare.gov and state-based COVID-19 Special Enrollment Periods (SEPs). Now - in these months leading up to the Marketplace Open Enrollment period - is a great time to implement annual planning activities to prepare both clients and staff for efficient enrollment appointments starting November 1.  
Whether your staff are skilled at conducting enrollment appointments or are brand new to the process, now is the time to make sure you have training, staff and partners, schedules and paperwork in place.
Get your organization on track and ready to enroll with our on-demand Preparing for Open Enrollment Module.
The ACE TA Center's Preparing for Open Enrollment Module is designed to help your organization prepare for Open Enrollment. This training module gives a month-by-month timeline and key steps your staff can take between now and the start of Open Enrollment.
In addition to a detailed timeline, the training module also provides links to resources to support staff training, partnership development, and clients' enrollment appointments. 
It's time to start scheduling Account Tune-Ups!
The goal of Account Tune-Ups is to make sure client enrollment appointments are quick and efficient starting on November 1. An Account Tune-Up is a pre-enrollment appointment which helps make certain that a client won't run into barriers when they attempt to enroll in health coverage. These appointments should be scheduled in-person or remotely in the months leading up to Open Enrollment. 
There are four main steps to an Account Tune-Up:
Check paperwork, Marketplace accounts, and insurance payments are up-to-date.
Review client's income and tax filing history to estimate income for 2021 and determine eligibility for Advanced Premium Tax Credits (APTCs).
Confirm enrollment in the Ryan White HIV/AIDS Program (RWHAP), including its AIDS Drug Assistance Program (ADAP).
Help clients prepare for enrollment and schedule enrollment appointments.
Reminder: Certified Application Counselor Designated Organization (CDO) Application Open Season: June 1, 2021 - August 31, 2021
Organizations operating in states that use HealthCare.gov can apply now to become a CDO for plan year 2022. CDOs oversee certified application counselors (CACs) who are trained and able to help clients find health insurance coverage through HealthCare.gov.
For more information, see this overview of the CAC Program and complete an application.
Note: CDOs are responsible for renewing their CDO status every 2 years. If you are unsure if your organization has an active or expired CMS-CDO agreement, email [email protected] with your organization's name and CDO ID for verification.
Have questions about Open Enrollment for 2022? Email the ACE TA Center.