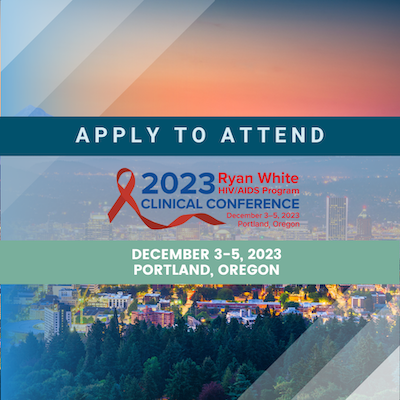 Registration openings remain available for the 2023 Ryan White HIV/AIDS Program (RWHAP) Clinical Conference, December 3-5 in Portland, Oregon.
As usual, the conference will provide state-of-the-art updates on HIV care for experienced clinical decision makers (including physicians, nurse practitioners, and physician assistants) who handled day-to-day medical care and treatment of persons with HIV and otherwise are crucial to medical care delivery in RWHAP–funded sites. Among the slots open are a limited number reserved for registered nurses and pharmacists who are the primary clinical decision makers in their RWHAP-funded clinic or program. Up to three participants from each clinic will be approved to allow more clinics to participate in the conference.
Attendance at this conference is limited, and all attendees must be approved. Wait until you receive approval to book a flight and hotel.
Co-chairs are Roger J. Bedimo, MD, MS, of the University of Texas Southwestern Medical Center at Dallas, Texas; Laura W. Cheever, MD, ScM, of the HIV/AIDS Bureau of the Health Resources and Services Administration; and Michael S. Saag, MD, of the University of Alabama at Birmingham.
Learn more on the IAS-USA website.