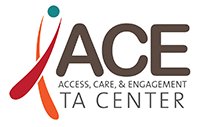 From the ACE TA Center Listserv - The 2021 Assister Certification Training is now available. The Centers for Medicare & Medicaid Services (CMS) just released its updated Assister Certification Training curriculum in preparation for the Marketplace Open Enrollment Period starting November 1, 2020.
Certified Application Counselors (CACs) are trained to help consumers look for health coverage options through HealthCare.gov, and help them complete eligibility and enrollment forms.
Why HIV program staff should consider completing the Assister Certification Training
Participating in this free Assister Certification training can provide a good foundation for any staff who will be helping clients to enroll in a 2021 health plan via HealthCare.gov, and for staff who would like to be able to answer their clients' routine questions about how the enrollment process works.
Note: CACs must be certified through a CAC Designated Organization. These organizations oversee and certify CACs.
The training is hosted on the Marketplace Learning Management System (MLMS); the online web-based training platform for assisters providing application and enrollment assistance to consumers in Federally-Facilitated Marketplaces and State-based Marketplaces using the Federal platform. Learn what type of Marketplace your state uses.
The MLMS can be accessed through the CMS Enterprise Portal
Although this training is for assisters working with HealthCare.gov, states with their own exchanges may have training and certification programs available ahead of Open Enrollment. Contact your state's Department of Insurance, or explore their websites, to learn about available training resources.
Reminder: The Health Resources and Services (HRSA) HIV/AIDS Bureau continues to update its list of Coronavirus 2019 (COVID-19) Frequently Asked Questions (FAQs) and resources for RWHAP recipients, subrecipients, and stakeholders.
Have a question about Open Enrollment? Let us know