HRSA HIV/AIDS Bureau (HAB) JSI TargetHIV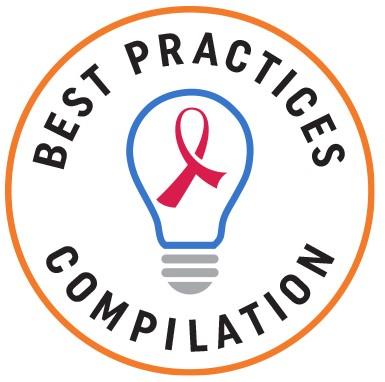 Are you interested in sharing your thoughts on the Ryan White HIV/AIDS Program Best Practices Compilation?
HRSA is gathering feedback from the Ryan White HIV/AIDS Program (RWHAP) community about the RWHAP Best Practices Compilation via the Best Practices Compilation Team at JSI and TargetHIV. We would like to hear from YOU!
What is it?
A 30–60-minute Zoom session in March, April, or May 2022.
An opportunity to talk with staff and developers about your experience using the Best Practices Compilation, including:
What do you hope to find in the Compilation?
Why would you refer a peer to the Compilation?
How easy is the Compilation to use? For example, the search function, submission form, viewing a profile.
What are your suggestions for improving the Compilation, including topics covered, information provided, and functionality/usability?
Who should consider participating?
RWHAP recipient or subrecipient staff who are:
Familiar with the Compilation and have used it at least once to search for an intervention or shared it with a peer.
Interested in providing feedback that will enhance the Compilation.
Willing to screen share as you use the Compilation to help us understand how people are interacting with the Compilation and identify opportunities for improvement.
We want to hear from you—sign up today
If you or someone else from your organization would be interested in participating, please complete the brief form below.
Browse for More
Topic Areas
Data Utilization
,
Service Models
,
Collaboration
,
Emerging and Innovative Models
,
Integrated Care
,
Interdisciplinary Teams
,
Rapid ART
,
Social Media
,
Telehealth
,
Trauma-Informed Care
,
Medical Homes
,
HIV Care Continuum
,
HIV Testing & Diagnosis
,
Linkage to Care
,
Retaining in Care
,
Antiretroviral Treatment
,
Achieving Viral Suppression
,
Key Populations
,
Aging
,
Black/African American
,
Cultural Competency
,
Hispanic/Latino
,
People with Disabilities
,
Adolescents & Youth
,
Incarcerated
,
MSM - Men who have Sex with Men
,
Rural
,
Transgender People
,
Women
,
Medical & Support Services
,
Adherence
,
Case Management
,
Employment Support for People with HIV
,
Health Literacy
,
Transportation
,
Housing & Homelessness
,
Mental Health
,
Nutrition
,
Outpatient Medical Care
,
Substance Use & Addiction
,
People with HIV & Community Involvement
,
Peer Programs
,
Ryan White HIV/AIDS Program & Parts
,
Part A - Hard Hit Urban Areas
,
Part A - Planning Councils
,
Part B - States/Territories
,
Part B - AIDS Drug Assistance Program (ADAP)
,
Part C - Community-Based Early Intervention
,
Part D - Women, Infants, Children, Youth
,
Part F - Dental Programs
,
Part F - HIV/AIDS Clinical Training
,
Part F - SPNS Models of Care