2022 National Ryan White Conference
The 2022 National Ryan White Conference on HIV Care and Treatment was held August 23-26, 2022 in virtual format. The conference theme: The Time is Now: Harnessing the Power of Innovation, Health Equity, and Community, to End the HIV Epidemic.
Conference materials (session recordings, posters) will be maintained on the Conference site with subsequent transition to TargetHIV at this page. 
Daily Plenary Recaps  - Day 1: Federal Response to EHE | Day 2: Health Equity | Day 3: Community Engagement | Day 4
---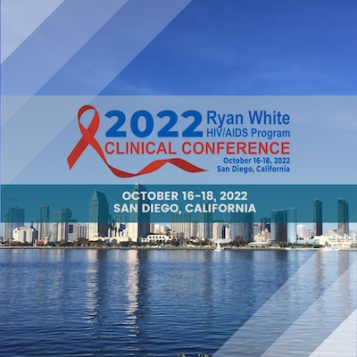 2022 Ryan White CLINICAL CONFERENCE
The 2022 Ryan White HIV/AIDS Program CLINICAL CONFERENCE is October 16-18. The in-person meeting will held in San Diego. See the agenda and more.
Registration will close September 30, 2022. Breakout session sign-up is still open and is on a first-come, first-serve basis.  This year's co-chairs are:
Roger J. Bedimo, MD, MS, of the University of Texas Southwestern Medical Center
Laura W. Cheever, MD, ScM, of the HIV/AIDS Bureau of the Health Resources and Services Administration
Michael S. Saag, MD, of the University of Alabama
Topics will include, for example: HRSA HAB updates, COVID-19 and HIV, Ending the HIV Epidemic, reducing health disparities, practitioner burnout, MRSA abscesses, MPX, and opioid use disorder.
---
Conference Archives
Virtual 2020 National Ryan White Conference on HIV Care & Treatment
Virtual ​2021 and 2020 Ryan White Clinical Conferences