The 2022 National Ryan White Conference on HIV Care and Treatment will be held August 23-26, 2022 in virtual format. The conference theme is: The Time is Now: Harnessing the Power of Innovation, Health Equity, and Community, to End the HIV Epidemic.
The day-by-day detailed agenda is available, in PDF format. Sections cover:
Four plenaries (opening on Federal Response to Ending the HIV Epidemic; Health Equity; Community Engagement; and Closing on Innovation). 
Day 1 (August 23) Business Day Meetings.
Concurrent workshops for August 23-26.
Use your computer's search function to scan through the PDF file. 
---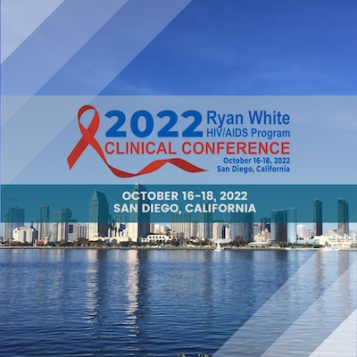 The 2022 Ryan White HIV/AIDS Program CLINICAL CONFERENCE is October 16-18. The in-person meeting will held in San Diego. See the agenda and more.
Registration will close September 30, 2022. Breakout session sign-up is still open and is on a first-come, first-serve basis.  
---
Conference Archives
Virtual 2020 National Ryan White Conference on HIV Care & Treatment
Virtual ​2021 and 2020 Ryan White Clinical Conferences