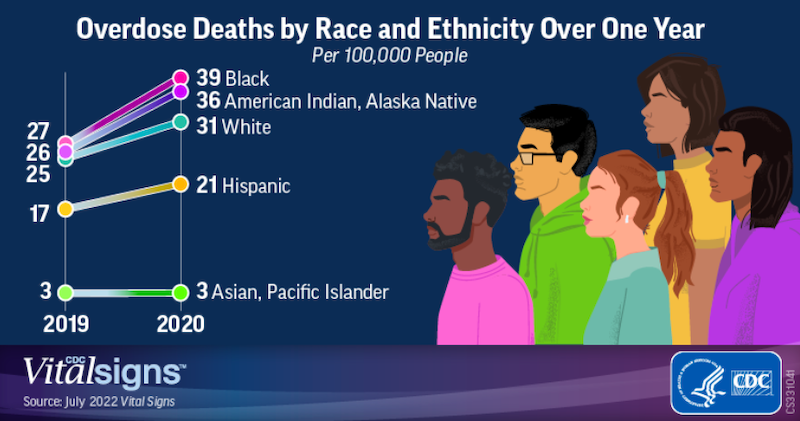 Drug overdose deaths are up, way up, from 2019 to 2020, in the 25 states and the District of Columbia that are included in CDC's State Unintentional Drug Overdose Reporting System.
Age-adjusted rates increased by 30% over the one year period. Data were presented in Vital Signs: Drug Overdose Deaths, by Selected Sociodemographic and Social Determinants of Health Characteristics — 25 States and the District of Columbia, 2019–2020. The Conclusions and Implications for Public Health Practice reads, in full: "Health disparities in overdose rates continue to worsen, particularly among Black and AI/AN persons; social determinants of health, such as income inequality, exacerbate these inequities. Implementation of available, evidence-based, culturally responsive overdose prevention and response efforts that address health disparities impacting disproportionately affected populations are urgently needed."
Three-fourths of overdose deaths were tied to opioid use, CDC, Drug Overdose.
The significance of drug abuse and its consequences is notably relevant to health outcomes for people living with HIV, as evidenced by the latest data from the Medical Monitoring Project (MMP) report, illustrated in this infographic: