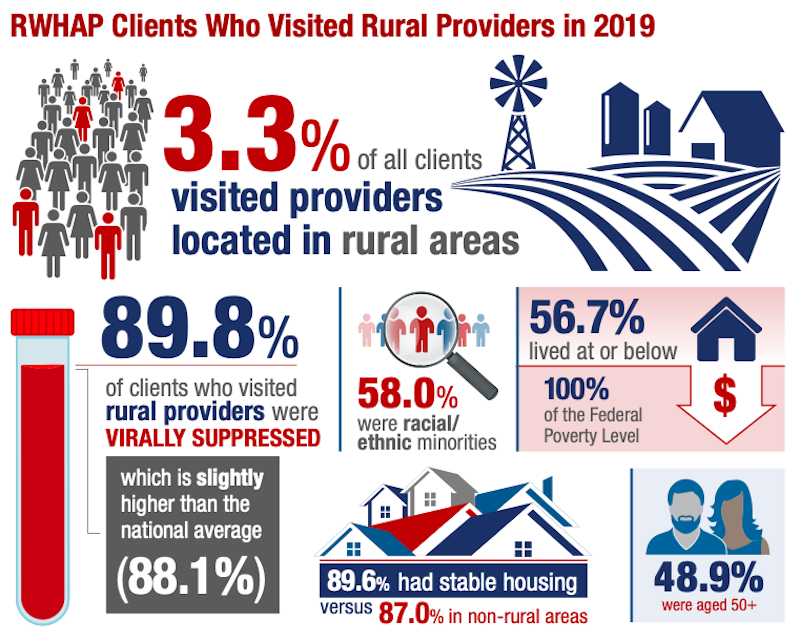 About 9 out of 10 individuals (89.8%) who live in rural areas and get their HIV primary care from agencies funded by HRSA's Ryan White HIV/AIDS Program (RWHAP) have achieved viral suppression.
Similar insights about the status of HIV rural care provided through the RWHAP are summarized in a new fact sheet, HRSA's Ryan White HIV/AIDS Program: HIV Care and Treatment in Rural Communities, released September 2021. The fact sheet summarizes characteristics of RWHAP providers located in rural areas (e.g., nearly 50% are serving more than 100 RWHAP clients) as well as patients who get their HIV services from these agencies (see the infographic on this page for a quick summary). 
Access other HRSA HIV/AIDS Bureau Fact Sheets
Resources on HIV Care and Rural Areas
The fact sheet also summarizes Rural Health and HIV Resources, like the RWHAP's AETC network that provides HIV clinician training as well as toolkits on care delivery (e.g., telehealth, substance use).
Relatedly, TargetHIV has a number of resources on its Rural topic page. Additional information was shared in rural-focused Conference Presentations from the 2020 National Ryan White Conference on HIV Care & Treatment, including the Rural Institute, like the following 301 session: Innovative Approaches to Reducing HIV-Related Stigma across Rural Communities
Video Outtake: Participants in the LEAD Academy in NO LOOK, an Anti Stigma Campaign of Medical Advocacy and Outreach in Montgomery, Alabama