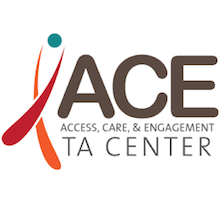 Modified from the ACE TA Center Listserv
In January and February, the ACE TA Center will host four webinars covering Medicare, Medicaid, and Medicare-Medicaid dual eligibility for Ryan White HIV/AIDS Program (RWHAP) clients. The webinars will feature our core Medicare, Medicaid, and dual eligibility content delivered in previous ACE TA Center webinars, as well as new and updated information related to Medicare enrollment and special enrollment periods. Registration required for each session.
How Will it Work?
Each webinar will cover a distinct topic area and will include knowledge checks to enforce key concepts. Presenters will also share ACE TA Center tools on Medicare, Medicaid, and Medicare-Medicaid dual eligibility. Attendance at all four webinars is not required. However, these webinars will cover complex and interrelated topics, so attendance at each is highly encouraged. 
Who is eligible for Medicare and how people can enroll.
The different Medicare parts.
*New 2023 Medicare changes* to shorten enrollment waiting periods and expand Special Enrollment Periods.
The role of the RWHAP in supporting clients with Medicare costs.
External Medicare enrollment supports.
How to identify and manage common Medicare enrollment challenges.
Sources of financial assistance for Medicare costs.
An overview of the Medicaid program.
Eligibility and enrollment rules and covered services.
The difference between Medicaid managed care and fee-for-service Medicaid.
How Medicaid coverage may differ from state to state and RWHAP recipients can find out what is available in their states.
How the RWHAP supports clients enrolled in Medicaid.
Health coverage considerations for RWHAP clients who are dually eligible.
Best practices for helping dually eligible clients enroll in health coverage.
Financial assistance options.
Sources of enrollment support for RWHAP case managers and program administrators.