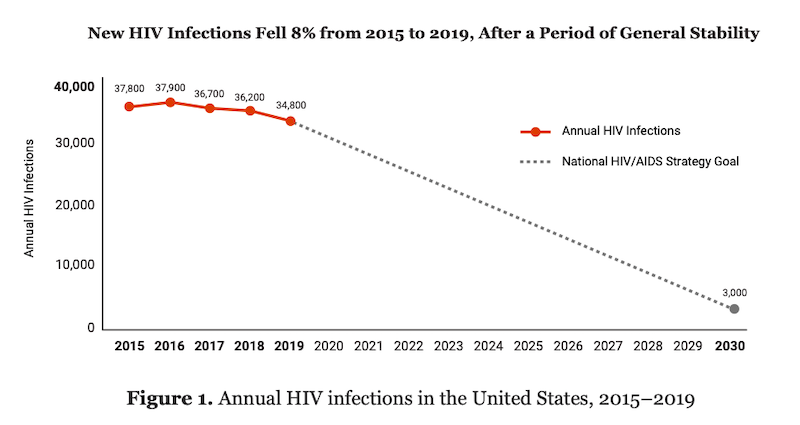 The new National HIV/AIDS Strategy, released in December, is 93 pages long. One can be forgiven for not readily knowing the details. HIV.gov does a dandy job of summarizing what's in the document and how it was developed, in National HIV/AIDS Strategy (2022-2025).
Below is our quick take, starting with the executive summary, which references the plan's focus on the four goals (prevent new HIV infections, treat to improve outcomes, reduce disparities, better integration). The document focuses upon a very wide array of issues. Much jumps out, like coordination across disciplines/sectors (from health to social services to governmental/non-governmental entities) and attention to factors and inequities (e.g., stigma, social determinants of health) through integration of services and adoption of evidence-based interventions.
Here's a summary of a summary, goal by goal, pulled from a less daunting reading task: the NHAS At-a-Glance section, which condenses it all into a relatively short reading assignment of just nine pages.
Want an even shorter read? See HIV.gov's National HIV/AIDS Strategy: What You Need to Know.
Goal 1: Prevent New HIV Infections (e.g., attention to comprehensive sexual health, integration of messaging with other public outreach efforts, a status-neutral approach to HIV testing with offering linkage to prevention services for people who test negative and immediate linkage to HIV care and treatment for those who test positive, expand prevention interventions, including treatment as prevention, PrEP, PEP, and SSPs, create a more diverse health care workforce/delivery systems).
Goal 2: Improve HIV-Related Health Outcomes of People with HIV (e.g., rapid ART, adopt more data-to-care models and expand implementation research to adopt more evidence-based interventions, expand the workforce including diversity and disciplines, improve capacity to serve older adults with HIV, development of next-generation HIV therapies and a cure).
Goal 3: Reduce HIV-Related Disparities and Health Inequities (e.g., address stigma, expand leadership opportunities, enhance use of data, address social determinants of health).
Goal 4: Achieve Integrated, Coordinated Efforts That Address the HIV Epidemic among All Partners and Interested Parties (e.g., integrate HIV, STIs, viral hepatitis, substance use and mental health services with attention to sharing of data, effective interventions).
Browse for More
Topic Areas
Clinical Quality Management
,
Data & Reporting
,
Ending the HIV Epidemic Initiative
,
Health Coverage
,
Service Models
,
Medical & Support Services
,
People with HIV & Community Involvement
,
Planning
,
Program & Grant Management
,
Ryan White HIV/AIDS Program & Parts
,
Part A - Hard Hit Urban Areas
,
Part A - Planning Councils
,
Part B - States/Territories
,
Part B - AIDS Drug Assistance Program (ADAP)
,
Part C - Community-Based Early Intervention
,
Part D - Women, Infants, Children, Youth
,
Part F - Dental Programs
,
Part F - HIV/AIDS Clinical Training
,
Part F - SPNS Models of Care