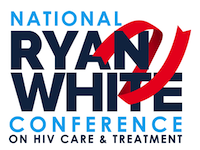 From the HIV.gov Blog, Day 1 Recap: 2022 National Ryan White Conference on HIV Care & Treatment - 8/24/22 - by HRSA's HIV/AIDS Bureau
Nearly 8,700 Ryan White HIV/AIDS Program recipients, subrecipients, national, state, and local stakeholders, planning body members, people with HIV, federal staff, and providers on the front lines working to deliver direct care to patients registered to virtually come together to participate in the 2022 Ryan White National Conference on HIV Care & Treatment (2022 NRWC) day one.
The 2022 NRWC takes place from August 23-26, 2022, and features four plenaries, 160 workshops, nearly 40 virtual exhibits, and nearly 100 poster sessions. The 2022 theme for the Health Resources and Services Administration- (HRSA) funded and sponsored conference is "The Time Is Now: Harnessing the Power of Innovation, Health Equity, and Community to End the HIV Epidemic." This theme reflects the urgency for ending the HIV epidemic in the U.S. while also highlighting the tools and resources we need to accomplish this goal. HRSA's Ryan White HIV/AIDS Program (RWHAP) understands we must continue to promote health equity to reduce HIV-related health disparities; be innovative in how we deliver HIV care and treatment, support people with HIV; and ensure people with HIV and their communities are involved in the planning, development, and implementation of HIV care and treatment strategies.
Day 1: Business Meetings
Day 1 began with a series of Business Meetings with the staff responsible for administering RWHAP Parts and initiatives. These sessions provided technical assistance, shared best practices, and highlighted how RWHAP recipients are providing HIV care and treatment to people with HIV in their communities.
Opening Plenary: Federal Response to Ending the HIV Epidemic
The 2022 NRWC opening plenary featured a panel of national leaders in the federal efforts to end the HIV epidemic. HRSA's HIV/AIDS Bureau Associate Administrator Dr. Laura Cheever, opened the conference with a review of the history of the RWHAP, which recently recognized the 32nd anniversary of the Ryan White CARE Act on August 18, 1990. Created to address widespread stigma and the need to fill gaps in HIV care, Dr. Cheever said that moving forward into the program's fourth decade will occur with "incredible tools and resources at our disposal and the outstanding knowledge, care, and support services provided by you – the Ryan White Program community." She shared doing so will require continued attention to address stigma, discrimination, racism, and equity.
Next, U.S. Department of Health and Human Services (HHS) Secretary Xavier Becerra commended the work and successes of agencies across the prevention-treatment continuum, and especially "those who reach out" to various communities in need.  Secretary Becerra expressed his pride in heading HHS, an agency that leads with these key questions: "Who is missing, who is not being covered, who is being left out." He noted that we have a chance to live up to Ryan White's memory and the long goal of doing away with HIV by the end of the decade. Secretary Becerra said, "This is the right time…and the right team at HHS to go big to work on ending the HIV epidemic." He also commended the work of agencies to tackle monkeypox (MPx) to make sure it does not become endemic.
HRSA Administrator Carole Johnson thanked those RWHAP staff who persevered through COVID-19 and demonstrated how to be creative and innovative to get services to those in need. Those lessons, said Administrator Johnson, are being put toward confronting MPx as HHS is leveraging its capacity across the department to ramp up the supply of vaccines and services. Administrator Johnson said she was humbled to be on the same agenda with Ryan White's mom, Jeanne White-Ginder, whom she remembered from over 30 years ago as she worked the halls of Congress to secure funds for HIV services. The work of the RWHAP, said Administrator Johnson, is particularly notable in that attention to social determinants of health was happening before it had a name: determining what services in the community are necessary to get people the care they need to engage and stay in care. Those insights, said Administrator Johnson, can be adapted as models for broader health care delivery as the RWHAP's success is clear with nearly 90% of RWHAP clients who get primary care reaching viral suppression.
Dr. Anthony Fauci, Director of the National Institute of Allergy and Infectious Diseases and Chief Medical Advisor to the President, presented a summary of the HIV landscape, domestic and global, covering data on progress made in both treatment and care, research on what more potential can be expected, and the lagging challenges we face. Dr. Fauci also presented a rapid-fire review of research studies on treatment, prevention, and vaccine studies and focused them around two major components—closing implementation gaps and developing new and improved interventions. He closed with the observation that ending the HIV epidemic requires us to follow the science but take these scientific advances and implement them with a strong concentration on equity in their application.
Stay Connected to #NRWC2022
Want to stay connected to the virtual 2022 National Ryan White Conference on HIV Care & Treatment? Follow HRSA on Twitter: @HRSAgov. You can also share which sessions you are enjoying – just use the hashtags #NRWC2022 and #32YearsofCARE.
Share Why You CARE
On August 18, HRSA's HIV/AIDS Bureau recognized the 32nd anniversary of the Ryan White Comprehensive AIDS Resources Emergency (CARE) Act – the legislation that created the RWHAP. Help us celebrate by downloading the "I CARE Because…" flyer, print it out, fill it in, and post a picture of yourself with the flyer to our virtual 2022 NRWC Photo Gallery. When posting, please use #32YearsofCARE and #NRWC2022. We will use the images throughout the remainder of the year to highlight how the RWHAP has affected the lives of our stakeholders.
Learn More
Learn more about the Ryan White HIV/AIDS Program and the 2022 NRWC: