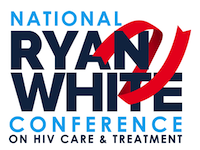 From the HIV.gov Blog, Day 2 Recap: 2022 National Ryan White Conference on HIV Care & Treatment - 8/24/22 - by HRSA's HIV/AIDS Bureau
Thousands of HIV care and treatment leaders, including Health Resources and Services Administration's (HRSA) Ryan White HIV/AIDS Program (RWHAP) recipients and subrecipients from across the country, virtually reconvened for Day 2 of the 2022 National Ryan White Conference on HIV Care & Treatment (2022 NRWC) on Wednesday. The Day 2 theme was "Health Equity," which took a look at how health inequities and social disparities affect HIV care and treatment and how the RWHAP is continuing to strive for health equity and to improve health outcomes for people with HIV.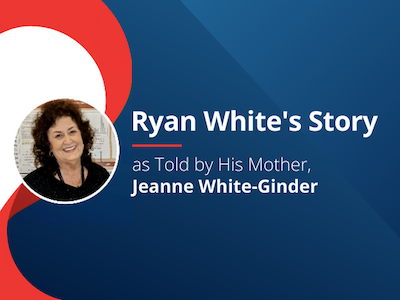 Special Session: Ryan White's Story, as Told by His Mother, Jeanne White-Ginder
Day 2 of the 2022 NRWC began with an inspiring special presentation from Ryan White's mother, Jeanne White-Ginder, who shared her son's important story. Mrs. White-Ginder's interview with HRSA's HIV/AIDS Bureau (HAB) staff was prefaced by a journey back to 1989 with airing of West 57th Street, a CBS show about Ryan and his family. Mrs. White-Ginder is still an activist, and her story still resonates, especially about what their family went through and what they did to confront AIDS discrimination. Said Mrs. White-Ginder in her closing remarks, we all are here today "because of people who are no longer here," adding that she "would like to see everybody appreciate where we are today… and be thankful and live their lives like Ryan did."
Plenary Session Spotlight: Health Equity
The Day 2 plenary session focused on health equity, gender-affirming care, reducing disparities, and stopping stigma. Chrissy Abrahms Woodland, MBA, HRSA HAB's Division of Metropolitan HIV/AIDS Programs Director, moderated the session and emphasized the long history of the RWHAP's commitment to health equity.
Mindy Fullilove, MD, LFAPA, Hon AIA, Social Psychiatrist, Professor of Urban Policy and Health, The New School, reviewed the roots of health inequity in terms of people and places and the impact of disease disparities as defined by both economic status and racism. Fullilove outlined six strategies for building a healthier society.
Mati Hlatshwayo Davis, MD, MPH, Director of Health, City of St. Louis, discussed the impact of COVID-19 on RWHAP service delivery, presenting disparities data by race/ethnicity for COVID-19 cases and HIV testing rates. Davis also reviewed the Fast Track work of St. Louis in making under the Ending the HIV Epidemic in the U.S. initiative, including building a more robust data "dashboard" to identify inequities and needed priorities; development of rapid ART; expansion of HIV testing including self-testing; harm reduction; PrEP expansion, use of social media to reach clients; and improving linkages to care. Davis concluded with a recommendation to engage in "disruptive innovation" to make improvements in service delivery.
Dázon Dixon Diallo, Founder & President, SisterLove, framed her remarks on working to achieve health equity at the community level around the challenging experiences of her colleague, who is a person of transgender experience and her struggles to access HIV services. Dázon also reviewed social determinants of health and intersectionality, their impact on inequities, and summarized various possible solutions, while urging us to "be comfortable with being uncomfortable" to accomplish the work.
Marwan Haddad, MD, MPH, Medical Director, Center for Key Populations for Community Health Center, Inc., discussed how Project (Weitzman) ECHO was used in his agency to address health equity for people with HIV and the elements of their health equity model (e.g., staff training, patient-centered care). Their Center for Key Populations includes expert faculty training of staff. Project ECHO work has expanded to 17 states. Haddad presented detailed data on the impact of ECHO on low- and high-volume HIV practices and its benefits in reducing care barriers.
Reminder: Stay Connected to #NRWC2022
Want to stay connected to the virtual 2022 National Ryan White Conference on HIV Care & Treatment? Follow HRSA on Twitter: @HRSAgov. You can also share which sessions you are enjoying – just use the hashtags #NRWC2022 and #32YearsofCARE.
Share Why You CARE
On August 18, HRSA's HIV/AIDS Bureau recognized the 32nd anniversary of the Ryan White Comprehensive AIDS Resources Emergency (CARE) Act – the legislation that created the RWHAP. Help us celebrate by downloading the "I CARE Because…" flyer, print it out, fill it in, and post a picture of yourself with the flyer to our virtual 2022 NRWC Photo Gallery. When posting, please use #32YearsofCARE and #NRWC2022. We will use the images throughout the remainder of the year to highlight how the RWHAP has affected the lives of our stakeholders.