AETC National Coordinating Resource Center (NCRC)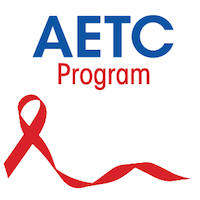 Three years before the Ryan White CARE Act was passed in 1990, the federal Health Resources and Services Administration (HRSA) provided funding for a small program to train HIV clinician staff, who were at the time managing opportunistic infections and quality of life for patients dealing with a terminal disease.
How much has been accomplished over the subsequent 35 years to train HIV clinicians in managing HIV as a chronic condition is documented in a new video, which presents a timeline of the work of HRSA's AIDS Education and Training Centers (AETC) program to expand and adjust to new priorities in HIV care. The video, 35th Anniversary of the AETC Program, was produced by the HRSA-funded AETC National Coordinating Resource Center (NCRC), which consolidates online HIV clinician training resources created by the network of regional and national AETCs. 
AETC History Highlights
Among the 6 minute video's highlights on AETC moments in history are:
1987 - Establishment of the AETC program. The AETC effort is among a small number of HIV projects that were created in the years before passage of the Ryan White CARE Act, which brought HRSA HIV programs under one umbrella.
1991 - Expansion into 11 regional AETCs, covering all U.S. states and territories. 
1993 - Establishment of clinician-to-clincian consultation services at San Francisco General Hospital, later becoming the National Clinician Consultation Center. 
1999-2000 - Expansion of AETC work in response to the National Minority AIDS Initiative.
2002 - AETCs push for expanded HIV testing in response to data that two-thirds of new HIV infections came from people who did not know they were HIV-positive. 
2005 - UMBAST established to address HIV need across the U.S./Mexico border.
2010 - Expansion of AETC training to new physicians, nurse practitioners, and physician assistants to support expansion of the aging HIV Workforce.
2011 - PrEP as a new AETC training topic and creation of AETC telehealth training programs. 
2015 - Reconfiguration of regional AETCs and creation of the new AETC National Coordinating Resource Center (NCRC) to create a one-stop-shop for AETC clinical training tools.
2017 - Launch of two comprehensive training platforms for HIV clinicians: the National HIV Curriculum and the HIV/HCV Co-infection, An AETC National Curriculum. 
Today - Ongoing AETC work on the Ending the HIV Epidemic (EHE) in the U.S. Initiative and the COVID-19 pandemic.