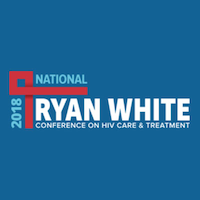 More than 600 clinicians are attending the 2018 Clinical Conference at the National Ryan White Conference on HIV Care & Treatment. This event has taken place annually for nearly two decades and serves to reach and educate front-line HIV clinicians in the United States who deliver comprehensive HIV care to over a half million individuals under the HRSA HIV/AIDS Bureau's Ryan White HIV/AIDS Program (RWHAP). 
All sessions will be online in webcast and slide format. Subscribe to the newsletter of the AIDS Education and Training Centers (AETC) National Coordinating Resource Center (NCRC) to be notified when recordings are posted live.
Presentation Highlights
Below, Laura W. Cheever, MD, ScM, Associate Administrator of the HRSA HIV/AIDS Bureau, provides highlights on some of the 19 plenary lectures--each of which engages participants via rapid-fire audience response polling questions. 
Intersection of Interpersonal Violence and HIV
Fifty percent of women living with HIV have experienced interpersonal violence (IPV). Presenter Tami Sullivan, PhD, outlined the importance of addressing IPV as part of clinic work to improve patient health outcomes. Her talk focused on integrating screening into a busy HIV clinic and developing needed partnerships with domestic violence resources in the community. See The Intersection of Intimate Partner Violence and HIV: Detection, Disclosure, Implications for Treatment Adherence (Tami P. Sullivan, PhD).
HCV/HIV Co-Infection
HCV/HIV elimination is an attainable goal both nationally and worldwide. In his presentation, David L. Thomas, MD, MPH, advised clinicians to look at the position of their clinics on the hepatitis C (HCV) treatment cascade (e.g., how many people have been diagnosed, referred, treated, and cured) because, similar to what is seen with the HIV treatment cascade, those who have yet to be cured of HCV may be more difficult to reach. This will necessitate new clinic strategies such as intensive case management. See Elimination of Hepatitis C in Individuals with HIV Infection (David Thomas, MD, MPH).
New Long-Acting Antiretroviral Therapies
The next big thing involves long-acting agents that may become available within the next year. Two of these agents are administered via injections that can be given monthly. "That's a game changer," said Cheever, "not just for those having challenges taking pills but also those who want to be liberated from taking HIV medications daily." See Investigational Approaches to Antiretroviral Therapy: New Strategies and Novel Agents (Joseph J. Eron, Jr, MD) and Treating HIV in 2018–Interactive Cases from the Clinic(ians) (Michael S. Saag, MD).
PrEP
While there are potential new PrEP medications, clinicians and patients need to stay focused on Truvada until data verify the efficacy of other PrEP options. See Antiretrovirals for HIV Prevention: Optimizing the Use of PrEP and PEP in 2018 (Raphael J. Landovitz, MD, MSc).
Sexually Transmitted Infections (STIs)
We are seeing a huge increase in STIs in the United States, which puts increased importance on screening and testing at oral, rectal, and urethral sites in order to truly ensure that gonorrhea and chlamydia are diagnosed and treated. Of particular importance is screening among MSM, and also pregnant women, given the increase in congenital syphilis. See Sexually Transmitted Infections: Gonorrhea, Chlamydia, Trichomoniasis, and Human Papillomavirus (HPV) (Kimberly A. Workowski, MD) and The Great Imitator Revealed: Syphilis (Jeffrey D. Klausner, MD, MPH).
Reaching Experienced and New HIV Clinicians
The Clinical Conference traditionally has been tailored for experienced HIV clinicians, said Donna Jacobsen, Executive Director of IAS-USA, a conference co-organizer. This year, about one third of attendees reported having fewer than 5 years of HIV clinical experience, prompting a first-ever HIV 101 pre-conference session for relative newcomers—perhaps testimony to the generational change in the HIV workforce and the need for more trained HIV clinicians. Topics covered in the HIV 101 series included epidemiology and pathogenesis of HIV, application of antiretroviral therapy, and diagnosis and management of complications of HIV. "We will definitely repeat it in the future," said Cheever.
First-Timer Perspectives
By 2030, viral hepatitis is projected to account for more fatalities than HIV, malaria, and TB combined. Delivering that message in the Hepatitis Elimination plenary landed with Janet McKissick, a physician from South Carolina. HIV is part of McKissick's larger primary care practice. She sees 40 patients living with HIV at Low Country Health Care Services, Inc., which is funded by Ryan White Part C and a HRSA Health Center located in rural Fairfax, South Carolina. 
The "liver and syphilis" presentations stood out for first-time attendee Paul Chen, MD, of the MedStar Washington Hospital Center in the District of Columbia. "Great overviews" by "real experts in the field," said Chen, with insights on syphilis management approaches at different stages of infection and managing and recognizing potential negative outcomes in HIV/HCV coinfected individuals, including fatty liver disease and hepatitis superinfection when HIV suppressive drugs are withdrawn. See The Great Imitator Revealed: Syphilis (Jeffrey D. Klausner, MD, MPH) and Issues in Liver Health and Disease: Overview for the Nonhepatologist (Kenneth E. Sherman, MD, PhD).
McKissick came to the Clinical Conference to learn about treatment basics, like medication updates on new two-drug combinations. In a brief conversation, McKissick asked about how to line up one of her uninsured clients, who will soon move out of her area, with a new Ryan White clinic. Our advice: use the HIV.gov service locator (RWHAP clinics are one of the categories of agencies listed) along with our Program Locator.