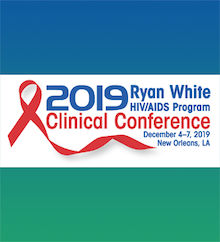 These times call for virtual learning. This blog presents 2019 Ryan White Clinical Conference videos and slides related to HIV AND AGING:
Inflammation and Its Role in HIV Pathogenesis and Aging
This presentation reviewed the growing proportion of people with HIV who are over 50, a fortunate outcome of the effective antiretroviral therapy, "one of the greatest achievements of modern medicine," and the associated complexities of care for older persons with HIV in terms of co-morbidities and factors like ART toxicity and immune activation/inflammation, and the potential value of interventions that focus on the underlying causes of inflammation.
Neurocognitive Disorders in HIV
This presentation focused on cognitive impairments associated with an aging HIV population and a drill-down into specific topics (e.g., inflammation, cerebrovascular disease, distinguishing Alzheimer's disease from HIV-related cognitive impairment), and screening and treatment recommendations.
Renal Disease and Kidney Transplant
This session reviewed acute kidney injuries (incidence, causes, treatment) and chronic kidney disease/end-stage renal disease among people with HIV as well as kidney transplants among this population. 
Cardiovascular Disease and HIV
This session reviewed the high incidence of cardiovascular disease among persons with HIV, which is likely to increase given the aging of the HIV population, risk factors, and risk reduction steps for clinicians and patients (e.g., smoking cessation, diabetes management).