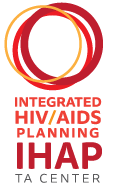 Examples of integrated prevention and care planning activities, presented to assist Ryan White HIV/AIDS Program (RWHAP) Part A and B recipients and CDC Division of HIV/AIDS Prevention (DHAP) funded prevention programs with greater integration of their respective planning bodies. Adapted with permission from EGM Consulting LLC.
Two models emphasize developing joint communication and data sharing activities.
Three focus on restructuring the actual composition, membership, or operating policies of planning bodies.