HRSA HIV/AIDS Bureau (HAB)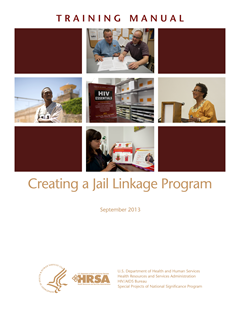 This training manual synthesizes lessons learned from the federally funded, innovative Special Projects of National Significance Enhancing Linkages to HIV Primary Care & Services in Jail Settings Initiative, otherwise known as EnhanceLink. Approximately 85 percent of incarcerated persons in the United States pass solely through jails, yet most interventions focus exclusively on prisons. EnhanceLink thus fills an important research void.
The learning objectives of this training manual are to:
illustrate the effectiveness of jail linkage work
provide information on components of a jail linkage program
highlight best practices from successful EnhanceLink 
grantees so that readers have the necessary information to replicate and implement this work
support the goals of the National HIV/AIDS Strategy (NHAS) by maximizing available resources to reduce HIV incidence, increase access to care, optimize health outcomes, and reduce HIV-related 
health disparities 

The target audience includes health care provider sites and community partners with an interest and need to work with incarcerated populations, particularly HIV-positive jail inmates and the recently released.
Part of Collection