SPNS Black MSM Initiative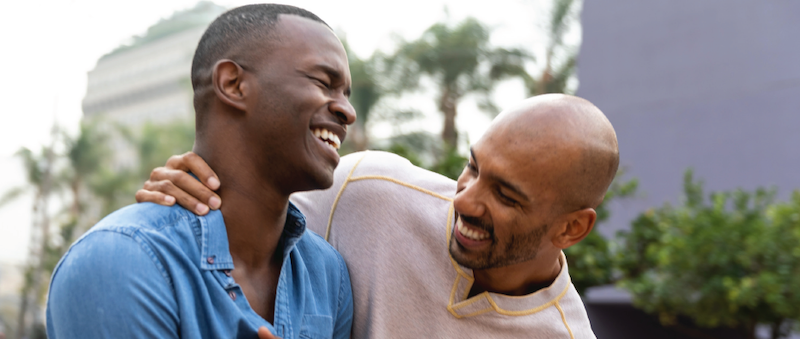 Resources to facilitate the replication or adaption of successful interventions for engaging Black MSM in HIV medical care, behavioral health care, and support services and improving their health outcomes.
Each of the interventions in the SPNS Black MSM Initiative developed implementation manuals, toolkits, and monographs that provide ideas for replication, lessons learned, and descriptions of key tools used to develop and implement the intervention that may be adapted or adopted by future programs.
Intervention Monographs
Each site developed a monograph that describes their intervention, key evaluation findings, and important lessons learned for future replicators. These monographs are compiled in Evidence-Informed Behavioral Health Models to Improve HIV Health Outcomes for Black Men who have Sex with Men Initiative and provide an introduction to the intervention, with more detailed information available in the manuals and toolkits linked in each site's section.
Project Vogue: Black MSM Implementation Guide
Project Vogue: Black MSM Implementation Manual
Project Vogue: Black MSM Implementation Toolkit
GMHC adapted the Project Vogue intervention from Project Silk, a recreation-based intervention that provides sexual health-related services in a stigma-free space for Black LGBT individuals. Similarly, GMHC's Project Vogue adaptation provided intensive, community-based care coordination services and integrated HIV medical care and behavioral health care for BMSM. Project Vogue aimed to increase viral load suppression and improve the longevity, quality of life, and other health outcomes for BMSM. The intervention also worked to mitigate the effects of behavioral health conditions on health outcomes and improve clients' retention in HIV care and medication adherence.
The +LOVE Program was a six-pronged intervention to enhance and improve HIV care and outcomes for Black gay, bisexual, and other men who have sex with men (BMSM) LWH, who reside in the New Orleans metropolitan area. The program provided participants, both existing clients at CrescentCare and clients from other health facilities, with the following: 1) a dedicated case manager; 2) a dedicated behavioral health therapist; 3) text-based mHealth digital support (CareSignal) that tracked participants' basic needs and levels of anxiety and depression, and provided ART medication reminders; 4) a dedicated triage crisis coordinator (TC), a social worker who responded to crisis alerts generated by participants' answers in the text program and offered immediate crisis assistance; 5) free Lyft rides to HIV and related care appointments; and 6) referrals to peer support.
STYLE 2.0: Black MSM Implementation Manual
STYLE 2.0: Black MSM Implementation Toolkit
STYLE 2.0 was an adaptation of an existing innovative model of care, Strength Through Youth Livin' Empowered (STYLE), designed to engage and retain Black and Latino young men who have sex with men (MSM) living with HIV in medical care and behavioral health services. STYLE 2.0 focused specifically on young Black MSM and added innovative virtual programming to target this hard-to-reach population. Virtual programming included health care navigation, support groups, motivational interviewing, and the STYLE 2.0 healthMpowerment app, which provided information and resources, fostered social support, and contained game-based motivational elements.
Care Engagement Project: Black MSM Implementation Manual
Care Engagement Project: Black MSM Implementation Toolkit
CCHC implemented the Care Engagement Project (CEP), a case management-based intervention which sought to increase rates of engagement and retention in HIV care for Black men who have sex with men (BMSM) living with HIV, with the goal of stabilizing hard to reach clients and retaining them in consistent care for improved viral loads and overall positive health outcomes. CCHC's proposed catchment area included low income, underserved, predominantly African American communities on the far South Side of Chicago and the surrounding south suburbs.
The Village Project was a 9-month intensive program to engage young HIV-positive Black men who have sex with men (BMSM) ages 17-34 into medical care and support services. The goals of the program were to improve access to behavioral health, linkage to care by 27 percent, retention in care by 15 percent, and viral suppression by 12 percent. The Village Project consisted of intense case management, peer navigation, and integrated behavioral health care and support services. The program was supported by a psychosocial support group, known as Heart & Soul, a rapid start protocol iSTAT Clinic for same-day access to care and medication, a mentorship program, a weekly multi-disciplinary case conference, and direct access to onsite mental health and substance use resources.
Building Brothers Up: Black MSM Implementation Manual
Building Brothers Up: Black MSM Implementation Toolkit
Building Brothers Up (2BU) was an adaptation of the evidence-informed Youth-Focused Case Management (YCM) Intervention to Engage and Retain Young Gay Men of Color in HIV Care. 2BU targeted highly impacted Black men who have sex with men (BMSM) who were living with HIV, were between the ages of 18 and 65, and were not engaged in HIV care or were at risk of falling out of HIV care. The primary goal of 2BU was to link or re-engage and retain BMSM living with HIV, who were heavily impacted by the intersectionality of other behavioral health issues, in HIV care so they could reach and sustain viral suppression. The 2BU intervention was delivered across six sessions in three months by a peer case manager.
ERASE: Black MSM Implementation Manual
ERASE: Black MSM Implementation Toolkit
East Bay Advanced Care (EBAC) implemented ERASE (Eradicating Racism and Striving for Excellence in HIV Care), an adaptation of an evidence-based model of care known as the Youth-Focused Case Management Intervention, for Black men who have sex with men (BMSM) living with HIV. Implemented at the EBAC clinic in Oakland and in the community, ERASE provided a stigma-free, BMSM-specific space at EBAC, reduced structural barriers for BMSM to access care, provided 24/7 support, and directly linked clients to on-site, integrated care including primary and specialty medical care. ERASE's target population was BMSM living with HIV ages 13+ who fit into one of these categories: newly-diagnosed/new to care; never entered into care; fallen out of care; at risk of falling out of care, and/or not virally suppressed.
WITH U: Black MSM Implementation Manual
WITH U: Black MSM Implementation Toolkit
WITH U paired peer health navigators with Black men living with HIV to complete six months of intensive support via in-person, video chat, phone, and text conversations. The WITH U program provided education, support, and navigation assistance for Black men who have sex with men (BMSM), over the age of 18 and living with HIV. Program encounters were broken into eight weeks of weekly sessions followed by four months of monthly sessions and delivered with an intent-to-treat approach. The activities during these sessions were directed by the self-identified needs of the participant and/or self-directed goals set by the participant.
Components
Introductory paper describing the Black MSM Initiative and the protocol for the multisite evaluation.