AIDS Alliance for Children Youth and Families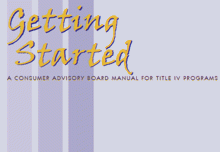 Workbook on setting up and operating a consumer advisory board (CAB). With an attention to CAB operations for Part D (Title IV) programs targeting women, infants, children, and youth.
 Sections cover the following:
Laying the Groundwork (bylaws, mission statement, member responsibilities, expectations of members)
Members, Officers, and Committees
Taking the Next Steps (meetings, conflict of interest, confidentiality, developing a workplace)
Making CABs More Effective
Best Practices, Personal Experiences, and the Ryan White CARE Act
Components
Cuaderno de trabajo sobre cómo establecer y operar una junta asesora para los consumidores (CAB, siglas en inglés), relacionada con las operaciones de CAB para los programas dirigidos a las mujeres, bebés, niños y jóvenes de la Parte D (Título IV).