Indian Health Service (IHS)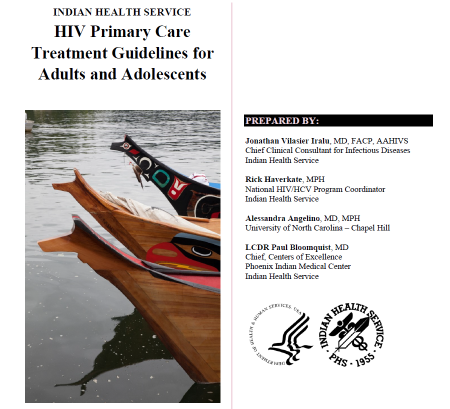 Advances in the treatment of HIV make management of HIV infection possible in the primary care setting at any Indian Health Service (IHS) facility. This document describes standards of care for adults and adolescents living with HIV/AIDS who receive care at IHS facilities. Children living with HIV are not addressed in this document and should be seen by pediatric HIV specialists. The IHS updates these standards periodically.
Note: See source HHS guidelines at ClinicalInfo.HIV.gov
Topics covered include initial visit, exam, laboratory testing, prevention of opportunistic infections, health maintenance (screening, monitoring, vaccination, mental and spiritual health), antiretroviral therapy, and more. HIV prevention is addressed, as well as care in special populations such as Two-Spirit and LGBTQ (2S/LGBTQ) populations.