Technical Assistance Provider Innovation Network (TAP-in)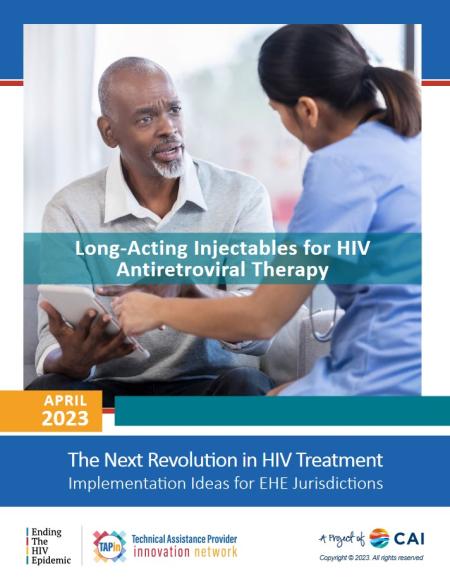 This playbook is intended to help the Ending the HIV Epidemic in the U.S. (EHE) initiative-funded jurisdictions consider what they can do to enhance implementation of a relatively new HIV treatment option: long-acting injectable antiretroviral therapy (ART). Implementation work can take on many forms.
For example, jurisdictions can work to:
Educate themselves and the broader clinic and patient community.
Determine optimal use of Ryan White HIV/AIDS Program (RWHAP) and EHE funds, with a focus on filling gaps in private and public health plan coverage and coordination of various RWHAP Parts.
Help identify optimal ways to put injectable services into place, such as selection of specific clinic sites and training of clinic staff.
To help jurisdictions address these and other questions, the playbook presents the best-of available resources (thus avoiding reinvention of the wheel), along with insights from a limited number of early adopters around the nation. Collectively, this information can be used by jurisdictions in working with communities and clinics to gear up long-acting injectable ART programs.
This playbook was prepared for jurisdictions funded under the federal EHE initiative and is part of the work of the technical assistance and training being provided to EHE's by the Health Resources and Services Administration (HRSA). Technical assistance and training are provided by the Technical Assistance Provider-innovation network (TAP-in), a project of Cicatelli Associates, Inc funded by HRSA.
Learn more, and access TAP-in resources