HRSA Bureau of Primary Health Care (BPHC), Centers for Disease Control and Prevention (CDC)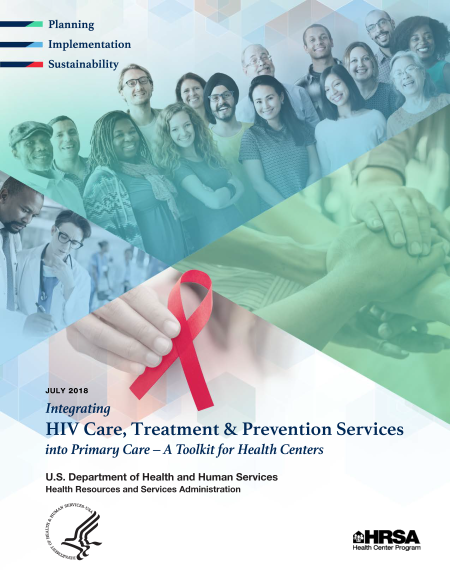 P4C was a national project aimed at expanding provision of HIV testing, prevention, care and treatment in health centers serving communities highly impacted by HIV; building sustainable partnerships between health centers and their state health department; and improving health outcomes among people living with HIV, especially racial/ethnic minorities.
A culminating product of the P4C project is this toolkit, which is designed for health centers and other safety net providers working to integrate HIV services into their primary care models—from those just considering integration, to those aiming to refine existing integration efforts. This toolkit is informed by the lessons learned, promising practices, and successful approaches used by P4C grantees to integrate HIV services into their primary care program. Specifically, the toolkit has the following purposes:
Provide a clear roadmap for integrating HIV services into primary care provision
Identify best or promising practices for HIV management in primary care
Provide tools for building health centers' capacity in workforce development, infrastructure development, QI, quality assurance (QA), and other organizational issues
Provide a comprehensive set of educational and instructional materials
Organizations considering or in the process of integrating HIV services into existing primary care service provision often encounter challenges at the individual, organizational, and systems levels. From staff training to developing robust reporting documents, there are a variety of areas in which organizations often need additional support. The demonstrated successes of other organizations that have integrated HIV services into primary care are valuable resources for organizations embarking on a similar effort.
Browse for More
Topic Areas
Quality Improvement
,
Data Utilization
,
Billing & Reimbursement
,
Fiscal Planning & Diversification
,
Ending the HIV Epidemic Initiative
,
Service Models
,
Collaboration
,
Integrated Care
,
HIV Care Continuum
,
Prevention
,
HIV Testing & Diagnosis
,
Linking to Care
,
Retaining in Care
,
Antiretroviral Treatment
,
Achieving Viral Suppression
,
Cultural Competency
,
Medical & Support Services
,
Outpatient Medical Care