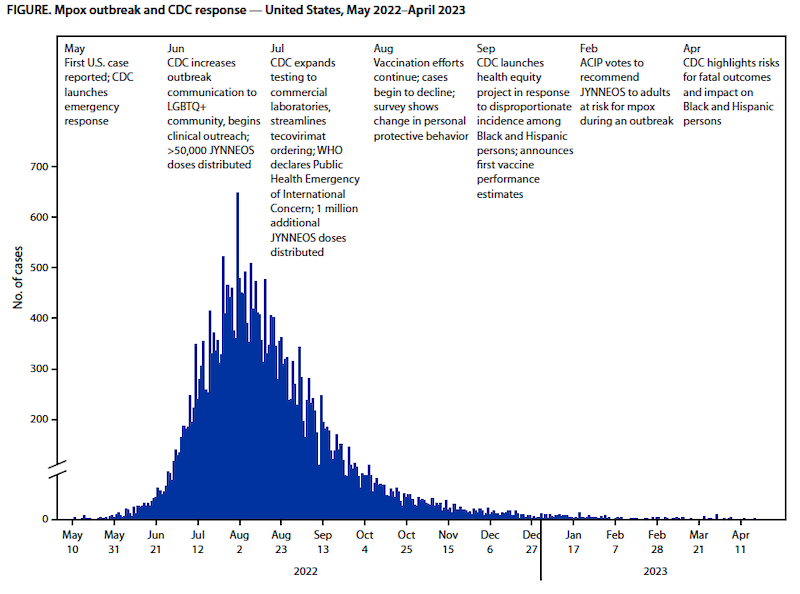 Two May 19, 2023 MMWR reports provide additional insights on the efficacy of the nation's response to the Mpox outbreak in 2022, which peaked in August 2022 and brought to near zero as of January 2023. 
Estimated Effectiveness of JYNNEOS Vaccine in Preventing Mpox: A Multijurisdictional Case-Control Study — United States, August 19, 2022–March 31, 2023 - The "adjusted VE [vaccine efficacy analysis study] was 75% for 1 dose and 86% for 2 doses of JYNNEOS vaccine, indicating substantial protection against mpox, irrespective of route of administration or immunocompromise status."
The CDC Domestic Mpox Response — United States, 2022–2023 - "Rapid adaptation of smallpox preparedness systems and tools, and prioritized communication expertise from HIV prevention programs, were leveraged to reach communities at risk. In 1 year, more than 30,000 cases were reported and >1 million JYNNEOS vaccine doses were administered. Black and Hispanic persons represented 33% and 31% of cases, respectively; 87% of 42 fatal cases occurred in Black persons."